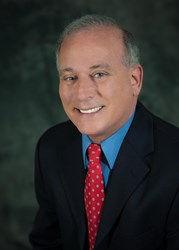 Mount Laurel, NJ (PRWEB) November 26, 2013
The National Association of Professional Organizers (NAPO) has named Certified Professional Organizer® and former two-term president of the association, Barry Izsak, to the Board of Directors as Immediate Past President. Mr. Izsak was appointed to complete the remaining term of Angela F. Wallace, CPO, who passed away on Nov. 12, 2013. His term begins immediately, and continues through May 15, 2014.
Owner of the organizing services firm Arranging It All in Austin, TX, Mr. Izsak has a long and impressive history of service and leadership with NAPO. He served two consecutive terms as NAPO's president, from 2003-2007. In 2006, he helped form the International Federation of Professional Organizing Associations (IFPOA), a global forum dedicated to elevating the reputation, visibility and professionalism of the organizing industry worldwide. Assuming many volunteer leadership roles throughout his 17-year NAPO membership, he currently serves as the Presidential Appointee for International Relations, as liaison to international NAPO members.
An advocate of continuing education for professional organizers, Mr. Izsak established The Barry Izsak/Glorya Schklair Conference Scholarship Fund in 2012 to provide at least two NAPO members per year with complimentary registrations to the NAPO Annual Conference and Organizing Expo. His tireless dedication to NAPO and his passion for the organizing and productivity industry have earned him multiple prestigious honors from the association: the President's Award (2010 and 2002), Service to NAPO Award (2008), and the Founders' Award (2005).
"Barry's extensive leadership experience and knowledge of NAPO will ease this unplanned transition and allow us to maintain our focus on NAPO's mission--to lead and advance the organizing and productivity industry," said NAPO President Mary Dykstra-Novess, CPO. "His willingness to return demonstrates his incredible commitment to NAPO. We're very fortunate to have him back on our board."
About NAPO
The National Association of Professional Organizers (NAPO) leads and advances the organizing and productivity industry. NAPO was founded in 1985 as a nonprofit professional educational association for professional organizers. Today, NAPO has approximately 4,000 members worldwide, representing the full spectrum of the global industry: professional organizers, productivity specialists, manufacturers, retailers, service providers, trainers, authors, educators, and more.
NAPO is The Organizing Authority®. NAPO serves its members and the public by providing professional educational opportunities, industry leadership, productive partnerships and expert information and solutions to foster growth and fulfillment for all who work within the organizing and productivity industry or benefit from its services. NAPO is headquartered in Mt. Laurel, New Jersey, and is on the web at http://www.NAPO.net.