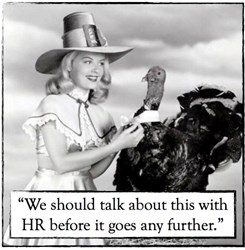 it can be the office turkey and the subsequent attention to a complaint that provides a real opportunity for an organization to learn and improve morale, productivity, and efficiency
ATLANTA (PRWEB) November 26, 2013
Deena Pargman, Ph.D., founder and CEO of DB Pargman Consulting LLC, encourages companies to "Thank the Turkeys" at this Thanksgiving holiday season. "What many people don't realize," according to Dr. Pargman, "is a workplace complaint can highlight underlying problems within an organization." Dr. Pargman points out that "it can be the office turkey and the subsequent attention to a complaint that provides a real opportunity for an organization to learn and improve morale, productivity, and efficiency."
As the nation's leading provider of Harassment Prevention and Sensitivity Training for over fourteen years, Dr. Pargman acknowledges that "a sexual or other harassment or diversity related complaint is not something that companies usually feel thankful for;" however, she highlights that "with the right approach and proper response by the organization, a complaint can actually lead to positive changes and be viewed as a constructive opportunity."
Dr. Pargman points out "often a sexual harassment or other complaint accompanies or follows some other issue or problem that has nothing to do with the alleged harassment, and it was the other issue that formed the seed of employee resentment or anger." Dr. Pargman's experience suggests "the harassment policies however, may give the complainer the grounds and structure to get management's attention." Dr. Pargman encourages clients to "listen very carefully to what is being said in a complaint as it may be an opportunity to learn something about your company that you do not know."
In most situations, Dr. Pargman encourages clients to avoid the temptation of immediately falling into an adversarial mentality focused on "who is guilty, who is lying, who is right, and who is wrong." Dr. Pargman encourages companies to follow policies and procedures; however, "often the real issue is not a legal situation but an employee morale or human resources challenge."
After 14 years of one-on-one sensitivity training sessions with executives and other key people following their being named in a complaint, Dr. Pargman has identified a pattern. "The person about which a complaint has been filed is often not a bad guy; however, they may have made a poor choice that caused them to bump heads with the wrong person at the wrong time," and according to Dr. Pargman, "the people I see are very good at what they do and bring considerable value to the organization, so if we can help them get through this blip, then we are really helping the company be successful too."
In addition, Dr. Pargman also reminds companies that the stretch of time from Thanksgiving to New Years is the height of what she calls "the Harassment Season." Her experience suggests that the complaints a company receives early next year will involve activities that will take place during the Harassment Season this year when work schedules give way to office parties, vacations, gift exchanges and lots of alcohol. "So check your posters, send reminders of company policies and expectations, and get in some training before the end of the year as a precaution," she advises.
Dr. Pargman acknowledges that "a sexual or other harassment complaint is no holiday for any organization," but she points out that with the appropriate response and perspective "if you see beyond all the stuffing that surrounds a complaint, your company can sink its teeth into some a valuable opportunities to grow and improve - and that can be something to be thankful for."
DB Pargman Consulting LLC is the nation's leading provider of One-on-One Executive and Sensitivity Training. When a complaint occurs involving a highly valuable employee or executive, DB Pargman provides prompt and remedial responses for companies facing harassment and diversity sensitivity complaints. To help prevent harassment before it occurs, DB Pargman provides best in class preventative Group Anti-Harassment Training Programs. Headquartered in Atlanta, DB Pargman Consulting LLC serves a national client base of medium to large size companies, educational institutions, and government agencies.
http://www.dbpargman.com