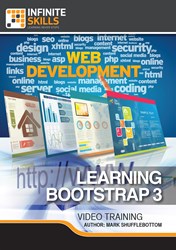 Learn to design a website with Bootstrap 3 at your own pace.
(PRWEB) November 26, 2013
Software training firm Infinite Skills Inc. this week introduced its "Learning Bootstrap 3 Tutorial," an introductory course teaching basics skills and tools for using the Bootstrap 3 web development platform to design web sites.
Bootstrap is an open-source platform using LESS stylesheets which precompile CSS sheets to provide basic style definitions for all key HTML components. The result is that users can create a uniform, modern presentation style for formatting text, tables, and form elements, that is already responsive to different web browsers, including mobile, tablet, and personal computer browsers.
Infinite Skills' Learning Bootstrap 3 Video Training shows how to use this breakthrough front-end framework for experienced web designers with a fundamental understanding of HTML, CSS, and JavaScript.
Learning Bootstrap 3 Video Tutorial - Streaming
Course author Mark Shufflebottom is a professor of interactive design at Sheridan College in Ontario. He has 20 years of experience in web design and interactive design, and is a regular contributor to web design magazines and training manuals. He is an Adobe Education Leader with Adobe awards for both practice and education.
Following an introduction and a guide to setting up Bootstrap, Shufflebottom goes in-depth with Bootstrap's grid system, newly included in the Bootstrap framework in the current edition. The chapter explores the grid, explaining containers, coding rows and columns in HTML, using nested columns, and more.
From there, Shufflebottom teaches how to use Bootstrap's responsive helpers to make images adaptable across various platforms with lessons covering responsive utility classes and working with media queries and breakpoints.
The course then covers Bootstrap's tools for creating navigation and site structure, including building a navigation bar, adding buttons, creating tabs, and much more.
"Bootstrap is a great way to build a basic website foundation quickly and easily," Shufflebottom says. "This course will show you how to use Bootstrap to kickstart your web projects, and take you up to the point where you will take over and begin customizing your Bootstrap layout."
Free demo videos and a full list of course contents can be found on the Learning Bootstrap 3 training page of the Infinite Skills website: http://www.infiniteskills.com/training/learning-bootstrap-3.html.
Infinite Skills offers its Learning Bootstrap 3 Training Video either as a direct download from the company website at a retail price of $49.95. Though the compatibility of programs varies, all Infinite Skills titles and formats are compatible with both Mac and Windows operating systems, and shipping is available around the globe. Additionally, Infinite Skills tutorials are supported by project files which correspond to examples in the videos.
About Infinite Skills Inc.
A leader in the field of software training, Infinite Skills designs its courses on a task-oriented model, teaching complex skills by providing hands-on examples and guiding users as they carry out essential functions. Infinite Skills offers a wide range of software titles available as DVDs, digital downloads, and in iPad editions. Infinite Skills now offers a subscription service, providing access to all its training content for a monthly fee, keeping with company's aim of delivering professional training to customers anywhere they want to learn.