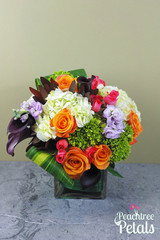 Atlanta, GA (PRWEB) November 27, 2013
Peachtree Petals, a leading new Atlanta Florist and FTD Master Florist, announces its new Peachtree Petals gift card available for the holiday season. The announcement comes in an effort to promote its holiday gifts, expand its customer base and increase holiday sales growth. Peachtree Petals strives to be the best choice for premium floral services within the Atlanta and surrounding Atlanta areas.
The new Peachtree Petals gift card is advertised on the home page of the Peachtree Petals website. Visitors can click on the image for details. Customers have gift card option amounts of $10, $25, $50, and $100. The gift card can be purchased online and delivered via e-mail to any desired recipient. Within the gift card e-mail, the recipient receives the instructions on how to redeem the gift card at checkout. The Peachtree Petals gift card can only be redeemable with a purchase from Peachtree Petals. The gift card also has no additional processing fees.
Peachtree Petals can provide its gift card in volume amounts for individuals or businesses for the holidays. The florist also has available higher dollar amount gift cards as well. Customers can contact Peachtree Petals to discuss any of the above special gift card requests and more.
The Peachtree Petals gift card is just in time for the Thanksgiving and Christmas holiday season. With the amount of holiday events and occasions that are held at this time of the year, Peachtree Petals offers a variety of floral arrangements and assorted gifts to choose from. Peachtree Petals not only offers gift cards, but also other daily discounts and deals. The florist has its Deal of The Week, which currently is the Tropic Appeals Bouquet for $64.97. This is a discounted price of 25%. Peachtree Petals also offers a next-day floral shipping program nationwide for an additional cost of $9.99.
Peachtree Petals is a well-known leading Atlanta florist and recognized Master Florist nationwide. From Wedding Bouquets to Anniversary Flowers, Peachtree Petals is able to meet all of your floral needs. Their floral designers have over 50 years of experience and enjoy their craft. Based in Atlanta, Georgia, Peachtree Petals services a growing list of clients, including company floral subscriptions and weekly floral services. The company offers a simple approach to the floral industry, most notably, same-day delivery of all their floral arrangements in the Atlanta and Metro-Atlanta area.