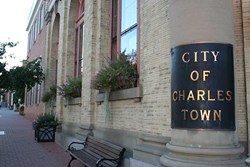 "The City is excited to be named in the study. It is a testament to the dedication and pride local leadership has shown over the years to make Charles Town a great place to live and visit."
(PRWEB) November 27, 2013
Charles Town, W.V., is the fifth best town in the state for young families to thrive and prosper, according to a new ranking released by a national consumer advocacy and financial literacy organization.
NerdWallet of San Francisco, Calif., used data from the U.S. Census Bureau and the non-profit GreatSchools city ranking tool to rank 36 West Virginia towns and cities (population 4,000-plus) based on five criteria:
1. Public school ratings
2. Median home value
3. Cost of home ownership
4. Median income
5. Economic growth
According to NerdWallet, Charles Town's school district received an eight-of-ten rating from GreatSchools. As one of the fastest growing counties in the state, the population grew by 80.9 percent in the last decade, said NerdWallet analyst Mike Anderson. In addition, Charles Town has the highest increase in income growth in the past decade (at 91.8 percent) among the top ten ranked towns. The second highest income growth came in more than 40 percentage points lower, at 51.5 percent in number ten ranked Buckhannon.
"The City is excited to be named in the study," said Charles Town Mayor Peggy Smith. "It is a testament to the dedication and pride local leadership has shown over the years to make Charles Town a great place to live and visit."
The City of Charles Town is the county seat of Jefferson County and is home to more than 5,000 residents. It was originally chartered in 1786 by the state of Virginia and named for Charles Washington, brother of the nation's first president. The family-friendly Charles Town is rich in heritage and the arts, and boasts thriving residential communities, a walkable downtown commercial and historic district and many recreational opportunities.
"With its proximity to Washington, D.C. and many cultural and entertainment offerings, Charles Town– and all of Jefferson County–offers an affordable high quality of life with excellent local schools and institutions of higher learning," said John Reisenweber, executive director of the Jefferson County Development Authority. "Home costs are one-third of the price of comparable homes in the Washington, D.C. MSA and income levels are among the highest in the state. And according to a report released last month by the West Virginia University College of Business and Economics, Jefferson County is one of the key economic drivers in the state's current and projected growth."
The top one to four towns, according to the NerdWallet ranking, are: Bridgeport, Hurricane, Nitro and Vienna. Click here for additional information about the report.
NerdWallet is a consumer-friendly financial literacy website that helps individuals make better financial decisions and set effective financial goals. NerdWallet has been featured in The New York Times, Wall Street Journal and Reuters.