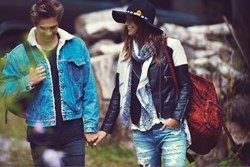 (PRWEB) December 03, 2013
On December 4th, 2013, specialty clothing brand, Free People, will officially release its December campaign featuring a 35 page catalog accompanied by a seven minute short film. Titled, 'The Cabin,' the campaign, starring Noot Seear and Jacques Naude, follows a couple struggling to deal with life's changes. Hoping to find solace in a familiar place, the couple heads to where they first fell in love. In addition to Free People's visually stunning catalog, shot from the point-of-view of the reader and from Naude's perspective, the film brings the story to life with an intimate, passionate, cinematic experience. This is the fourth short film that Free People has produced, as the brand explores building the lifestyle through video. Each film has explored love from a different angle.
"It's about building a relatable, yet aspirational world for our customers," says Lauren Cohan, Free People Art Director. "These films are about evoking an emotion and creating thought-provoking, inspiring content."
'The Cabin' Synopsis:
As the film opens, videographer Jacques Naude unexpectedly discovers film from a weekend in his past. Memories flood back to the time when he and girlfriend, Noot Seear, were deciding the fate of their impassioned relationship. Facing life changes that threaten to split them apart, the couple decided to escape to where their love began: a rustic cabin in Maine. There, we watch as their romance unfolds. In simple moments together, surrounded by the peace of nature, the two are able to find a short refuge. Through affection, laughter, and adventure, one can see that their love is real. Will what they've realized hold them together, or will it encourage them to set each other free? As the weekend comes to an end, we discover what the next step is for Jacques and Noot. Preview 'The Cabin,' here.
The Cabin will go live on the homepage of FreePeople.com and FreePeople.co.uk on Wednesday, December 4th, 2013.
Catalog Credits
Models: Noot Seear and Jacques Naude
Photographer: Guy Aroch
Hair & Makeup: Deanna Hagan
Film Credits
Actors: Jacques Naude and Noot Seear
Directors: Guy Aroch and Carlos Veron
Director of Photography: Carlos Veron
Edit: Ryan McKenna
Art Direction: Free People
Producer: Carl Walters
First Assistant Director: Ben Kahn
Hair/Makeup Artist: Deanna Hagan
Boom Operator / ADR Recordist: Anton Gold
Colorist: Damien Van Der Cruyssen
Sound Editor/Mixer: Dan Flosdorf
"Tiderays"
Performed by Volcano Choir
Courtesy of Jagjaguwar
By Arrangement with Bank Robber Music
Special Thanks: Morgane Bernier, Coline Jourdana, Mikey Van Beuren, Filipp Penson, and Matt Sprout
###
About Free People
Free People is a specialty clothing brand featuring the latest trends and vintage collections for women who live free through fashion, art, music, and travel. The eclectic look consists of quality apparel, shoes, and accessories that invoke attributes of femininity, spirit, and creativity with its design. Free People is distributed globally via direct channels including the Free People Global site and Free People UK site, as well as specialty boutiques, top department stores, and the brand's free standing retail locations in the U.S. and Canada.