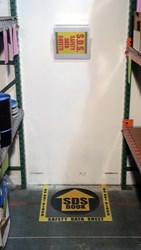 Wake Forest, NC (PRWEB) December 04, 2013
As the holidays approach, Stop-Painting.com has decided to show their gratitude to customers by reducing Superior Mark floor marking kits by 25%. This reduction includes the Fire Extinguisher, Electrical Panel, SDS, Eye Wash Station, First Aid, and AED and Oxygen Floor Marking Kits.
Each kits is comprised of Superior Mark tape which is in pre-cut strips that allow for very rapid installation of box shaped floor markings. Stop-painting.com manufactures Superior Mark, which is a unique floor marking tape that features beveled edges, a recessed adhesive, and is specifically designed to withstand the abusive environments of industrial facilities. These floor marking kits can be installed in just a few minutes by simply cleaning the floor with alcohol, and then peeling and sticking down three pre-cut pieces of highly visible and durable tape. The floor marking kits comes with one 24 inch strip of Superior Mark, two 36 inch long pieces of Superior Mark, all featuring puzzle cut edges that seamlessly fit together to form a three sided box.
Many of these kits help facilities to comply with various OSHA regulations such as Article 1910. 303 (h) (5) (i). This OSHA law demands that the area around an electrical panel be completely clear to be in compliance. The electrical panel kits ensure all panels have a required clearance at least 36 inches from the wall. Furthermore, using a fire extinguisher kit helps facilities comply with OSHA regulation 1910.157 (c)(1). OSHA requires that fire extinguishers be placed in a visible location and be easily accessible in the event of a fire. Using a kit to designate the location of the fire extinguisher will ensure it will never be blocked and will be always available for employees.
For increased visibility, be sure to pick up each kits corresponding floor sign to create clear communication.
Be sure to take advantage of this offer which will end on December 31, 2013.
Please visit Stop-Painting.com for complete product information or call 1-866-284-1521.
Stop-Painting.com is apart of InSite Solutions, the manufacturer of Superior Mark tape.
InSite specializes in floor marking solutions that increase safety, organization, and efficiency in the workplace. They offer Superior Mark and a variety of other traffic control solutions for sale on their ecommerce website, http://stop-painting.com.