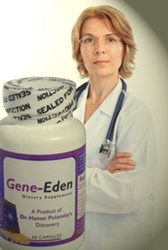 People that have recurring cold sores should take Gene-Eden-VIR, a natural remedy clinically proven to reduce symptoms associated with herpes infection. - Mike Evans, polyDNA
Rochester, NY (PRWEB) December 01, 2013
Research shows that if an individual develops cold sores, that person will never fully recover. In other words, that person will never be cured of the herpes virus that causes the cold sores.
Why?
Such an individual has a defective gene that causes his or her immune system to be deficient against the virus. This is bad news. However, there is a way to help the help the immune system against the virus.
Cold sores are usually caused by the HSV-1 strain of the herpes virus. The virus causes a contagious infection that affects approximately 60 percent of adults in the United States according to the CDC, quoting a study published in 2006 in JAMA (2).
Researchers from Edinburgh University discovered that people with cold sores have a mutation in a gene necessary for a strong immune system against the herpes virus (1). Scientists analyzed thousands of genes "to identify which ones expressed the proteins needed by the body's immune system to prevent the virus from becoming active and - as a result - cold sores from developing (1)."
In other words, the scientists discovered that certain genes were able to keep the HSV-1 virus latent. When these genes are broken, HSV-1 takes advantage of the situation, reactivates, and causes an outbreak of cold sores.
"Most people carry the cold sore strain of the herpes simplex virus, but until now we never knew why only some of them develop cold sores. Knowing that susceptibility to the virus involved relates to people's genes reinforces the need to research, not only the evolution of viruses themselves, but also the susceptibility of hosts to infection (1)," said Professor Juergen Haas, of the University of Edinburgh's Division of Pathway Medicine.
"People that have recurring cold sores should take Gene-Eden-VIR, a natural remedy clinically proven to reduce symptoms associated with herpes infection." - Mike Evans, polyDNA
A study published on August 12, 2013 in the peer reviewed, medical journal
Pharmacology & Pharmacy, in a special edition on Advances in Antiviral Drugs, showed that Gene-Eden-VIR reduced herpes symptoms. Study authors wrote that, "Individuals infected with the herpes virus…reported a safe decrease in their symptoms following treatment with Gene-Eden-VIR (3)." The study authors also wrote that, "We observed a statistically significant decrease in the severity, duration, and frequency of symptoms (3)."
To learn more about Gene-Eden-VIR, and herpes visit http://gene-eden-kill-virus.com/Herpes-Remedy.php. All orders of Gene-Eden-VIR are completely confidential, and no information is shared or sold to any third party. Privacy is assured.
References:
(1) Scottish scientists unravel cold sore mystery. Published on September 16, 2013.
http://www.scotsman.com/news/health/scottish-scientists-unravel-cold-sore-mystery-1-3095414
(2) Key Statistics for Herpes Simplex Virus Type 1 (HSV 1).
http://wwwn.cdc.gov/nchs/nhanes/bibliography/results.aspx?catid=42&name=Herpes%20Simplex%20Virus%20Type%201%20(HSV%201)
(3) Gene-Eden-VIR Is Antiviral: Results of a Post Marketing Clinical Study. Published August 12, 2013.
http://gene-eden-kill-virus.com/PP_Gene-Eden-VIR-is-Antiviral.pdf
polyDNA is a biotechnology company that develops dietary supplements using the unique scientific method developed by Dr. Hanan Polansky, which is based on Computer Intuition.
In addition to his unique scientific method, Dr. Polansky published the highly acclaimed scientific discovery, called Microcompetition with Foreign DNA. The discovery explains how foreign DNA fragments, and specifically, DNA of latent viruses, cause most major diseases.
polyDNA developed Gene-Eden-VIR, an antiviral natural remedy that helps the immune system kill latent viruses.