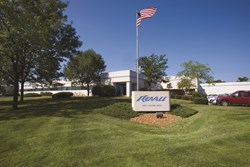 We are honored to receive special recognition from the DOE. Kenall is proud to be affiliated with the Lighting Facts program as an LED Lighting Facts manufacturer and approved lab partner. - Jim Hawkins, President
Gurnee, IL (PRWEB) November 28, 2013
Kenall Lighting a leader in the commercial lighting industry, has been named a 2013 LED Lighting Facts® Special Recognition partner by the U.S. Department of Energy (DOE) for the company's support for the LED Lighting Facts program and the LED lighting industry as a whole.
"We are honored to receive special recognition from the DOE," said Jim Hawkins, Kenall president and CEO. "Kenall is proud to be affiliated with the Lighting Facts program as an LED Lighting Facts manufacturer and approved lab partner."
Every year during the annual Market Introduction Workshop, the DOE acknowledges a select group of LED Lighting Facts partners with Special Recognition for their efforts to assure and improve the quality of LED lighting products.
Kenall recently achieved ILAC accreditation to ISO17025. The company uses the LED Lighting Facts program to help drive specifications toward products that are on the Product List because the third-party verification process promotes quality through fair comparison. Speed to market, high efficacy, and the ability to back up performance claims for every product configuration with an LM-79 report and an LED Lighting Facts label are worth the investment in capital and resources.
The LED Lighting Facts is a program of the U.S. Department of Energy that showcases LED products for general illumination from manufacturers who commit to testing products and reporting performance results according to industry standards.
About Kenall Lighting
Celebrating 50 years of lighting innovation, Kenall Lighting, located in Gurnee, IL, produces and supports high quality and durable lighting solutions for the most demanding environments. Since its inception in 1963, Kenall has been known for superior quality, exceptional value, anddurable solutions, and it is proud to provide sealed lighting for containment or clean spaces, security lighting for detention facilities, and specialized healthcare and transportation applications. Kenall products are manufactured in the USA and meet the guidelines established under the Buy American Act and the North American Free Trade Agreement. For additional information, visit http://www.kenall.com.