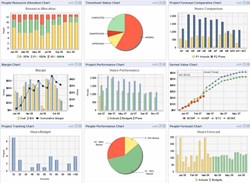 Dulles, VA (PRWEB) November 26, 2013
Unanet, a developer of services automation software that helps organizations manage people and projects for improved profitability, today announced that it has reached a significant customer milestone: more than 1,000 organizations have adopted Unanet's project-based software.
Growth in customers has continued to come from the government contracting sector, where Unanet has a very strong presence, and also from commercial consulting firms, internal IT organizations, universities, and the non-profit sector.
Customers choose from two licensing models: On Demand software in the "cloud", or the installed On Premise solution. Recent trends have shown increased adoption of the Unanet offering in the cloud to the point where On Demand customers now exceed those licensed On Premise. The move by organizations to the cloud is driven by benefits of higher system up time, easier remote access, greater scalability, incremental operating cost versus upfront capital expenditure, and focusing their technical staff on adding value to their customers, rather than internal operations.
To support the growth in customers adopting software as a service, Unanet continues to expand its investment in cloud computing at managed service providers in locations in northern Virginia and the Midwest.
Unanet also recently expanded space at its headquarters near Dulles Airport, to accommodate additional staff in product development and professional services, and made additional hires in sales and professional services around the country.
In 2013, the Unanet product saw major new capabilities related to invoice formatting and multi-project invoicing, interactive graphical resource planning taking into account utilization and overloads, Customer Relationship Management features, and integration enhancements including detailed invoice exports to generate invoices in third party systems such as QuickBooks, and also to support government required invoice formats such as SF-1034/1035.
Current product development includes expanding the scope of the Unanet software to support a full Project-Based ERP system including a General Ledger, Accounts Payable, Accounts Receivables and support for Cost Pools.
About Unanet:
Unanet is a leading provider of Cloud or On-Premise software for project-based organizations. Unanet delivers skills management, resource planning, budgeting & forecasting, time & expense reporting, billing & revenue recognition, and project management reporting. Over 1000 organizations rely on Unanet to maximize staff utilization, reduce administrative costs by 90%, improve invoicing by 10X, and support forward decision-making for improved operations.