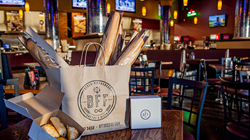 Arlington, TX (PRWEB) November 26, 2013
Leading commercial furniture distributor Restaurant Furniture Supply recently helped Arlington's newest bistro and bakery to a successful grand opening.
Located in Arlington, TX, BFF Bakery and Bistro is a French-Vietnamese Bakery, Bistro and Bar. They serve Asian cuisine from Sushi, Korean BBQ, Boba Tea and French-Vietnamese styled dishes. They also have a bakery on site that makes fresh baked goods. They also serve traditional wings for chicken lovers and sport fans (free NFL Games & UFC Fight) and have an extended patio bar, their eclectic menu that offers unique specialties such as Vietnamese Chicken Curry and Vermicelli Tofu. Customers can also build their own plate and choose their own noodles, meat, garnishes and sauce.
BFF is about molding a medley of flavors that stem from French-Vietnamese cuisine. Finding that harmony and realizing the true meaning of fusion is their goal. The bistro also has a full bar that offers wine, cocktails and sake.
The owner turned to Restaurant Furniture Supply for bar stools for the new bistro because of their reputation for excellent quality at affordable prices explained sales person Chris K. He opted to go with the Window Back Metal Bar Stool with red vinyl seats. "It's one of our most popular bar stools" said Chris. The stylish design really makes a big difference and adds a lot of class. Metal bar stools are a great choice because they are so durable. Restaurant Furniture Supply is well known for its high quality commercial furniture which can withstand heavy traffic and not become unstable or worn out for many years.
The Window Back Metal Bar Stools are currently on sale for only $54 from Restaurant Furniture Supply, which also has a matching chair. The frame is available in black, copper vein, silver vein, gold vein or gold. Customers have the choice of a solid wood seat or padded seat using American made option is a padded seat. The seat is upholstered using American made foam and vinyl or fabric and can also be custom made.
Browse Restaurant Furniture Supply's full selection of commercial grade chairs, bar stools, table tops, table bases, booths and patio furniture at http://www.restaurantfurnituresupply.com/or talk to a customer service representative at (888) 346-9992.
BFF Bakery and Bistro is located at: 6501 S. Cooper St., in Arlington, TX. They can be reached at: (817) 617-3450.