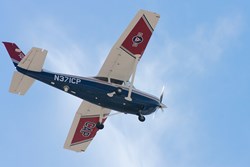 Each week, each month, others are lost. We want to make sure those who remain, and those who have passed, are rightly honored for their vigilant service to America. -- CAP National Commander Maj. Gne. Chuck Carr
Maxwell Air Force Base, AL (PRWEB) November 28, 2013
As Civil Air Patrol prepares to celebrate its 72nd anniversary, the all-volunteer service of 61,000 members looks to honor its founding members who, propelled by duty and love of country, valiantly defended their homeland during World War II.
Now in their 80s and 90s, these unsung heroes from the nation's greatest generation are in line to receive recognition when CAP receives the Congressional Gold Medal – the highest honor Congress can bestow on an individual or group. Legislation to award a gold medal to CAP for its World War II service has passed the Senate and is pending in the House. An expected vote in January 2014 will make it official.
"These members from our earliest days as an organization helped save lives and preserve our nation's freedom," said CAP National Commander Maj. Gen. Chuck Carr. "They were truly unsung heroes of the war, using their small private aircraft to search for and deter enemy submarines close to America's shores."
CAP was founded 72 years ago on Dec. 1, 1941, less than a week before the Japanese attack on Pearl Harbor led to America's involvement in World War II. Its members quickly proved their worth by conducting aerial patrols on their own, heroism that discouraged and eventually stopped deadly German U-boat attacks along U.S. coastlines and waterways.
"Our veterans, as volunteer unpaid civilians, conducted combat and humanitarian missions during a critical time of need for the nation," said Carr. "Amazingly, many flew their own aircraft on hazardous missions, in bad weather, at great personal risk."
Of the 59 members who died during World War II, 26 were lost at sea and seven others were seriously injured while carrying out their civilian combat missions.
Their wartime service was highly unusual because they were civilian volunteers flying combat missions at their own expense at a time when the military could not adequately respond to the U-boat threat. CAP's "subchasers" helped staunch the loss of American and Allied merchant vessels, saving the lives of untold thousands of sailors and countless millions of dollars of war materiel destined for the battlefields in Europe and the Pacific.
In addition to their coastal patrols, CAP aircrews assisted with other essential wartime missions on the home front, such as search and rescue, disaster relief, border patrol, forest fire patrol, target towing for military practice and transporting critical supplies within the country. Members also managed hundreds of airports and trained aviators – many of them cadets – for future service in CAP and the military.
CAP has stepped up its legislative efforts over the past year to recognize the roughly 60,000 men and women who served during World War II because time is now their enemy. Due to their advanced ages, less than 200 are still alive today.
"Each week, each month, others are lost," said Carr. "We want to make sure those who remain, and those who have passed, are rightly honored for their vigilant service to America."
Carr asks anyone who knew of adult CAP members serving during World War II to upload their information into the database at https://www.capnhq.gov/CAP.WorldWarII.web/WWII.aspx.
Civil Air Patrol, the official auxiliary of the U.S. Air Force, is a nonprofit organization with 61,000 members nationwide, operating a fleet of 550 aircraft. CAP, in its Air Force auxiliary role, performs 90 percent of continental U.S. inland search and rescue missions as tasked by the Air Force Rescue Coordination Center and is credited by the AFRCC with saving an average of 80 lives annually. Its unpaid professionals also perform homeland security, disaster relief and drug interdiction missions at the request of federal, state and local agencies. The members play a leading role in aerospace education and serve as mentors to more than 26,000 young people currently participating in the CAP cadet programs. CAP received the World Peace Prize in 2011 and has been performing missions for America for 72 years. CAP also participates in Wreaths Across America, an initiative to remember, honor and teach about the sacrifices of U.S. military veterans. Visit http://www.gocivilairpatrol.com or http://www.capvolunteernow.com for more