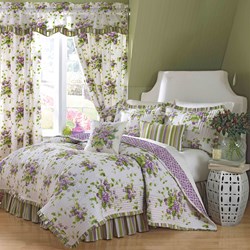 New York, NY (PRWEB) November 26, 2013
The hardest people on every holiday list are the people that already have everything. Grandma may seem to have everything she wants, but these few goodies are sure to put a smile on her face.
Traditional styles, like those from Waverly bedding, are perfect for Grandma. Help brighten up her guest room with a beautiful floral bedding ensemble, or an elegant quilt set. If she already has the bedding she needs, give her a beautiful matelassé coverlet for an added texture. Coverlets are great folded at the end of the bed, or tucked into the sheets for extra warmth in the winter months. Try individually crafted matelassé's like the King Charles Matelassé Collection for a unique look.
Give her something cozy like a plush throw blanket. Perfect for her couch or bed, a cozy throw can serve as decoration and a reminder of her favorite grandchild. Complete the cozy gift with a pair of matching slippers so that Grandma can stay extra warm all winter long.
Looking for something a little simpler? Find a mug that fits her style and fill it with short-stemmed flowers. Finish the gift with a festive ribbon and sweet message.
For more tips and ideas, visit Homestyle Brands.