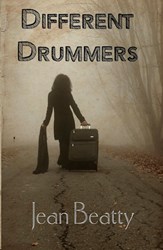 Culture shock and family secrets make a young ex-pat Englishwoman fear for her life in 1950s Charlotte.
Charlotte, NC (PRWEB) November 27, 2013
It is the early Fifties when the young Kathleen McCreadie from Cheshire, England, falls in love and marries Bob Conroy, an American soldier. Immediately after the honeymoon, Bob is transferred back to the US, leaving Kathleen to sail alone to New York. So opens Jean Beatty's latest novel, Different Drummers, a tale of homesickness and romance that will appeal to anyone who has ever left home to make a new life in a foreign land.
Kathleen is vulnerable and unsophisticated, her head full of wonderful dreams of Gone-with-the-Wind-style homes, gleaned mostly from American movies. It isn't until she arrives at Bob's dilapidated home in a small South Carolina town that she is faced with life as it really is. Bob's overzealous and bigoted father informs her on her first evening that Catholics such as herself are not Christians. She struggles to adapt, but when her husband re-enlists and is sent to Korea, she draws on a courage and determination she didn't know she had. Feeling that their problems are her fault, she decides to wait for him to return, but during this time discovers family secrets that make her fear for her life.
The book's take on emigration comes from the author's own life, though the events are entirely fictional. Jean Houghton-Beatty lived all her young life in a country pub on the outskirts of Liverpool in England. She was introduced to her future American husband by a friend of the family. After they married, they settled in Charlotte, North Carolina, her husband's hometown. Houghton-Beatty became a secretary and it wasn't until years later she decided to take creative writing courses at Queens College in Charlotte. She has traveled widely through most of Europe, and also to Africa and Asia. Her favorite places are ancient cities with cobble-stoned streets and mysterious little places round every corner.
Her second book, Stoney Beck, is now available in printed form or as an ebook. It migrates in the opposite direction of Different Drummers, featuring a young woman from Charlotte, North Carolina who must travel to England to solve a family mystery.
The publisher is Raleigh-based Boson Books, which was acquired by indie e-publisher Bitingduck Press just over a year ago. One of the first electronic publishers, Boson has been producing e-books since 1994, with formats and features evolving with the technology. DRM-free electronic versions of Jean Beatty's books are available directly from the press webstore. Currently closed to submissions due to a full catalog, Bitingduck will feature Young Adult in 2014 and Hard Science Fiction in 2015.