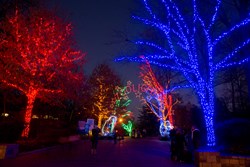 Washington, DC (PRWEB) November 28, 2013
One of DC's most popular holiday events, ZooLights includes fun for the whole family, from train rides and tubing, to special holiday drinks like hot chocolate, eggnog, and more. From 5:00 until 9:00 p.m., the Zoo is filled with fun things to do and see, both outside and inside. There are lights, music, and rides throughout the Zoo. Many of the Zoo's indoor animal exhibits will also be open, along with a festive winter scene that is sure to delight younger visitors in the Visitor Center.
Who
All ages are welcome. ZooLights has activities for families, children, and adults. Everyone can enjoy walking through the light displays throughout the Zoo.
What
ZooLights features more than 500,000 holiday lights, musical performances, Panda Clause in a giant snowglobe, plus a Gin-GRR-bread competition featuring tiger habitats made from gingerbread, tubing on Lion/Tiger Hill, carousel and train rides, and the Zoo-Magination station at the Visitor Center, which includes a Land of Legos and Fantastical Animals sculptures by paper artist Andy Byers.
When
ZooLights is open from 5:00 p.m. to 9:00 p.m. every night from November 29 to January 1, except December 24, 25, and 31.
Where
The Smithsonian's National Zoo is completely transformed during ZooLights, with holiday light displays and music throughout the park. Visitors also have the opportunity to visit the Small Mammal House, Great Ape House, Reptile Discovery Center, and Think Tank which will be open every night of ZooLights. In addition to the wonderful displays, the Visitor Center will also feature food, drinks, and holiday gifts. Concession stands are spread throughout the park and the Zoo's Mane Grill will be open as well.
Why
ZooLights is a family-friendly holiday experience that directly supports the Smithsonian's National Zoo. Purchasing rides, food, or shopping in Zoo stores directly supports the Zoo's animal care, research, and conservation work.
How
Parking will be available on a first come, first served basis. Parking prices are $10 for FONZ Members and $20 for nonmembers. The Zoo's Connecticut Avenue entrance is between the Red Line's Cleveland Park and Woodley Park metro stops. Shuttles will run every Friday and Saturday night from the Woodley Park Metro station to the Zoo.
Sponsors
The lead sponsor for ZooLights is Pepco. Other sponsors include Big Bus Tours, The Coca-Cola Company, Telemundo, 94.7 Fresh-FM, Comcast, Giant, NBC4, GEICO, United Airlines, Washingtonian Magazine, The Washington Post/Kids Post, and Zipcar.
Thank you to the SunTrust Foundation for their support.