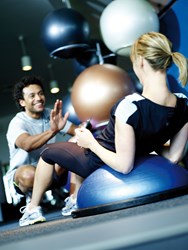 (PRWEB UK) 27 November 2013
David Lloyd Leisure has identified small group training and fitness on the high street among key industry trends for 2014.
Europe's premier health, sport and leisure group predicts that there will be increasing demand next year for a flexible, tailored approach to training catering for those with busy lifestyles who want easy access to regular exercise and to achieve great results fast.
Areas of growth will include small group training - personal trainer-led groups typically comprising 3-5 people who favour a more tailored, personal programme over a 'one size fits all' approach, with the added motivation of upping their game alongside gym 'buddies'.
The current trend of high intensity interval training (HIIT) - short, intense workouts that aim to achieve quick results – will continue and there will be a shift towards functional training (also known as 3D or movement training), using equipment such as ViPR, TRX and kettlebells to ensure the entire body is moving during training rather than working specific muscle groups in isolation.
High street fitness will be a key trend, with exercise and nutritional services offered in town centre studios, making it easier for those who are time-pressed to fit exercise into their daily routine. In 2013, in the first initiative of its kind by a UK health and fitness operator, David Lloyd Leisure launched its non-membership, personal training and group training high street concept, David Lloyd Studios, in three locations. It has ambitious plans to bring the concept to more high streets around the country in 2014.
The desire of individuals to track their performance and optimise cardio and resistance training will fuel demand for technology aided fitness programmes using equipment such as heart rate monitors. Recognising this as an emerging trend, in August 2013 David Lloyd Leisure used its third David Lloyd Studio in Islington, north London, as the exclusive UK and Ireland launch-pad for the revolutionary US group interval training programme, Orangetheory®. The workout will be rolled out as part of the David Lloyd Studio expansion programme next year.
Rob Beale, David Lloyd Leisure's head of sport, health and fitness for adults, said: "Next year will be very much about making fitness flexible, fast and focused; making it easy for an individual to slot exercise into their normal routine, giving them the added motivation of training in a group and getting great results quicker."
With rising consumer awareness of the benefits of combining healthy eating with physical exercise and an increasing taste for natural, wholesome foods, David Lloyd Leisure will continue to enhance its DLicious food and beverage offering, based on 40:30:30 (good carbs, quality protein and essential fats) and paleo philiosophies. Its 12-week Lose & Shape Up programme, combining group exercise with nutritional advice and support, will also meet increasing demand for a whole-body approach to fitness and weight loss.
Participation in cycling is set for further growth in 2014 and, due to popularity, David Lloyd Leisure will further roll out installation of Wattbike, the hi-tech indoor cycle trainer that combines real-time, scientifically accurate fitness data with the feel of riding a real bike and unique pedal technique analysis. The increasing popularity of triathlon, one of the world's fastest growing sports, is set to fuel increasing participation in David Lloyd Leisure triathlon programmes and triathlon clubs. The more recent emergence of obstacle racing will create demand for circuits and boot camp-style training.
Also recognising parental demand for their children to engage in sport and physical exercise, as national concern mounts about childhood obesity and poor levels of fitness among youngsters generally, David Lloyd Leisure will continue to invest in its All Stars exclusive junior coaching programme and bespoke facilities for its DL Kids activity programme.
This will see Gymnastics All Stars, its latest product offering alongside tennis and swimming, rolled out across the estate in 2014 after a successful pilot scheme. The programme, available to 3-7 year-olds, follows the Total Gymnastics Gym Stars programme, established by three-time World Champion and Olympic medallist Beth Tweddle MBE.
ENDS
Note to editors: For further information about this press release, contact the David Lloyd Leisure press office on 01707 289833 or email press(at)davidlloyd(dot)co(dot)uk.
About David Lloyd Leisure Group
The David Lloyd Leisure Group operates 81 clubs in the UK and a further 10 clubs across Europe, plus the new high street concept, David Lloyd Studio, in Islington, Putney and Winchester. It has over 440,000 members and employs 6,000 people. This includes an expert health and fitness team of over 1,800, while it contracts the services of more than 400 tennis professionals. Across all clubs, David Lloyd Leisure has over 150 swimming pools (of which half are indoor) and offers over 10,000 exercise classes per week. Every week 20,000 children learn to swim at David Lloyd Leisure and 14,000 learn to play tennis. Its racquets facilities are unparalleled with 700 tennis courts as well as 180 badminton courts and 140 squash courts. Additional facilities include health and beauty spas, club lounges with free internet access, crèches, nurseries and specialist sports shops.