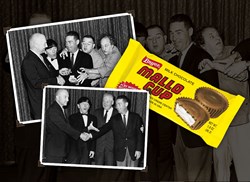 Altoona, PA (PRWEB) November 27, 2013
Boyer Candy Company, makers of the Famous "Mallo Cups", "Smoothie Cups", and "Original Peanut Butter Cups", launched their new website & online store. The new online store will include over 60 items such as Boyer Brands, corporate gifts, baking ingredients, fundraising kits, gift boxes for all occasions, and Logo Merchandise for the nostalgia collector in us all. View our Products & Nutritional facts for additional information.
The homepage includes wonderful nostalgic photos of the Boyer Brothers and the Three Stooges taken in the early 50's.
The website also takes you through the history of the Company, as well as Marshmallows, Chocolate, Butterscotch, Peanut Butter, & Pretzels.
Take a virtual tour of how our candy was made throughout its history, or find a recipe using Boyer's tasty baking ingredients.
The Store Locator (2nd most popular page) helps the consumer find their beloved Mallo Cups, Smoothies, & Original Peanut Butter cups in retailers throughout the USA.
Good News! If you still have some Play Money tucked away from your childhood, Boyer Candy is still redeeming the Play Money at double its value. Go to the website http://www.boyercandies.com and download an order form to redeem cash or prizes.
To view our website please log on to http://www.boyercandies.com.
Additional High Resolution photos and jpegs are available upon request.