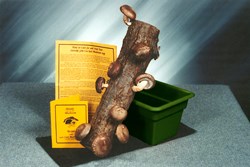 Growing a shiitake log is fun, clean, and interesting. The logs are kept indoors like plants or outdoors in shade. They will "fruit," produce mushrooms, about every two months for 4-5 years.
Perkins, OK (PRWEB) November 26, 2013
Shiitake mushrooms are the second-most popular mushroom in the world, and are at the top of the list in medicinal mushrooms. Gardeners, cooks who love high-quality food and produce, and mushroom lovers in general can enjoy and appreciate growing their own organic, high-protoplasmic shiitakes.
According to The Mushroom Lady, Sandra Williams of Lost Creek Mushroom Farm, "Most shiitakes are grown on sterilized sawdust. They taste pretty good and are good for you. But shiitakes grown on logs are a different order of excellence. The caps are thick and meaty and the flavor is deep and rich. Very few people get the opportunity to cook with and eat log-grown shiitakes."
"Shocking" the logs, meaning soaking them in ice water, mimics the spring and fall rainy seasons and tricks the logs into fruiting.
The Mushroom Lady explained, "Little mushroom buds, called pins, push through the bark; and in 6-10 days the fresh shiitakes are ready to harvest. At first logs put out just a few mushrooms; but as they matures, they grow more with each fruiting. In the second year logs can be loaded with shiitakes, top to bottom. Crops taper off in the third and fourth years as the shiitake uses up all the wood's cellulose."
After harvesting, the logs require soaking in non-chlorinated room-temperature water about every two weeks. Then, they "rest" for two months, building up increasingly larger networks of shiitake mycelia inside the log until they are ready to fruit again.
"With two logs, a person can alternate the fruiting log and get shiitakes every month," Sandra said.
Flavorful, meaty, high protein-low fat shiitakes stimulate and boost the immune system. They contribute to healthy hearts, healthy blood, and younger-looking skin.
"And they are delicious!" she added.
Lost Creek Mushroom Farm shiitake log kits come in a range of sizes and prices, starting at $18, and including a 10-inch log for $29.95; and Ma & Pa Kits, at $49.95, with two 10-inch logs that can provide mushrooms every month by alternating the producing log.
The Original Log Kit at a new, reduced price of $49.95 includes a tray for soaking, fruiting and resting.
Prices include shipping. Kits include ready-to-fruit hardwood logs, instructions, and recipes. Logs 9-10 inches and larger are guaranteed to grow shiitakes.
"We have The Shiitake Sampler Cookbook with 51 kitchen-tested shiitake mushrooms for only $7.99. I use it and I think it makes a good gift even better," Sandra said.
Log kits are available at the Lost Creek Mushroom Farm website, http://www.shiitakemushroomlog.com, by phone order at 800-792-0053, and on Amazon.com at slightly higher prices.
The Lost Creek Mushroom Farm Facebook page features "Fungi Factoids" about varieties of mushrooms and what they can provide for health and well-being.
Lost Creek donates a portion of sales to their Mushrooms in Ghana Project, started in 2007 following the Williams' volunteer assignment as mushroom consultants in Ghana, West Africa. The project is nearing completion.
"The small-scale mushroom farmers in Ghana are proving that mushroom production can be an effective tool for alleviating poverty," the Lost Creek Mushroom Farm Lady said, "and that is being proven throughout the developing world. We are profoundly grateful to be part of the process."