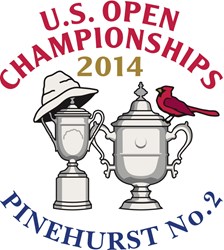 Far Hills, NJ (PRWEB) November 26, 2013
Holiday shoppers looking for the perfect gift for the golfer on their list can take advantage of a special opportunity and be a part of another chapter in the history of American golf when they purchase tickets for the back-to-back 2014 U.S. Open Championships, conducted by the United States Golf Association (USGA). Pinehurst Resort & Country Club (Course No. 2), in the Village of Pinehurst, N.C., will host the U.S. Open and U.S. Women's Open from June 9-22, the first time ever that these two major championships will have been conducted in back-to-back weeks on the same golf course.
The USGA will mail a free 2014 U.S. Open bag tag to anyone who purchases tickets by Dec. 31, 2013. In addition, those who purchase tickets on or before Dec. 8 will receive free personalization of their bag tag.
Tickets and packages for both championships are available. Prices start at $30 (daily) and $175 (weekly), respectively. A limited quantity of Series ticket packages are still available and include a ticket for each day of the U.S. Open and the U.S. Women's Open as well as access to VIP parking for both championships.
Tickets will be mailed in early May 2014. The bag tag will be mailed after the order is received and processed.
Ticket orders will only be accepted on USGA websites at http://www.usopen.com or http://www.usga.org/tickets or if received via a mailed application. Questions or a request for a printed application can be directed via email to ticketquestions(at)usga(dot)org or by calling 1-800-698-0661.
Each buyer is permitted to purchase up to four tickets for each day while supplies last. All tickets include free public parking and shuttle transportation to and from the parking area and the championship entrance.
Junior tickets are always available on-site at will call and at all admission gates during the championship. Juniors age 12 and under will be admitted free of charge any day when accompanied by an adult ticket holder. Tickets for juniors ages 13 to 17 will be available for purchase at a reduced rate. There is a maximum of two junior tickets per one adult ticket holder. Junior tickets permit Trophy Club access only when accompanied by an adult Trophy Club ticket holder.
Legendary Pinehurst No. 2 has hosted six USGA championships and three international team championships since 1962. Most recently, the famed course was the venue for the 2008 U.S. Amateur when Danny Lee defeated Drew Kittleson, 5 and 4, in the final match. In 2005, Michael Campbell became the first New Zealander to win the U.S. Open with his two-stroke victory over Tiger Woods. The 1999 U.S. Open at Pinehurst provided one of the championship's most dramatic finishes when Payne Stewart sank an 18-foot putt for par on the 72nd hole to top Phil Mickelson by one stroke.
About the USGA
The USGA conducts the U.S. Open, U.S. Women's Open and U.S. Senior Open, as well as 10 national amateur championships, two state team championships and international matches. Together with The R&A, the USGA governs the game worldwide, jointly administering the Rules of Golf, Rules of Amateur Status, Equipment Standards and World Amateur Golf Rankings. The USGA's working jurisdiction comprises the United States, its territories and Mexico.
The USGA is a global leader in the development and support of sustainable golf course management practices. It serves as a primary steward for the game's history, and funds an ongoing "For the Good of the Game" charitable giving program. Additionally, the USGA's Course Rating and Handicap systems are used on six continents in more than 50 countries.
For more information about the USGA, visit http://www.usga.org.