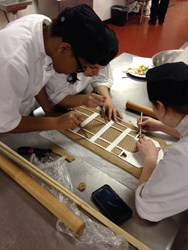 "Creating these culinary pieces of art is not only an honor, but a high point in our baking and pastry instructors' and students' careers," said Paul Ryan, President of the Auguste Escoffier Schools of Culinary Arts
Austin, Texas (PRWEB) November 27, 2013
The Auguste Escoffier School of Culinary Arts located at 6020-B Dillard Circle in Austin, Texas, is excited to announce that it has been selected to create a gingerbread replica of Austin's famous Driskill Hotel that will be unveiled on Wednesday, December 4 from 6-8 p.m. during the Driskill's annual tree lighting ceremony.
More than 50 pounds of gingerbread dough along with candy and frosting galore will be baked and assembled by a team of 11 to create the gingerbread replica of the Driskill Hotel. Photos of the progression of the hotel can be found on the school's facebook page at http://www.facebook.com/escoffierschool.
At the same time the gingerbread hotel is being created, students will be busy completing part of their baking and pastry curriculum by creating an entire gingerbread village. The traditional European-style village, complete with snow, trees and seven building structures will be finalized December 5 and delivered the following day to the Austin Ronald McDonald House for display.
Both gingerbread projects will remain on display throughout the holiday season.
"Creating these culinary pieces of art is not only an honor, but a high point in our baking and pastry instructors' and students' careers," said Paul Ryan, President of the Auguste Escoffier Schools of Culinary Arts.
To learn more about the Auguste Escoffier School of Culinary Arts and its baking and pastry classes or holiday themed classes for food enthusiasts, visit Escoffier.edu or myculinaryadventure.com, call 866-552-2433 or follow us on facebook at http://www.facebook.com/escoffierschool.
About the Auguste Escoffier Schools of Culinary Arts
The Auguste Escoffier Schools of Culinary Arts offer professional culinary arts programs based on the methods, principles and systems of Auguste Escoffier, the international culinary icon and the source of modern cooking. Students have the opportunity to learn history and context directly from the Escoffier family, as well as from expert chef instructors.
The Schools' Culinary Arts and Pastry Arts certificate programs offer rigorous industry skills training as well as grounding in the standards of professionalism and excellence sought by employers. Campuses are located in Austin, Texas and Boulder, Colorado.