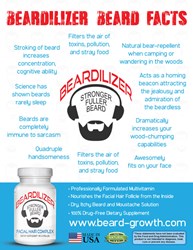 One year supply of Beardilizer: enough to grow a lumberjack's beard
Pompano Beach, FL (PRWEB) November 28, 2013
Beardilizer, a beard growth dietary supplement, will be launching a Facebook campaign (link: https://www.facebook.com/Beardilizer) on December 15. For two weeks, interested applicants can like and share the Beardilizer Facebook page. At the end of the time period, a sweepstake will reward the winning bounty: a one-year supply of Beardilizer. The winner will be personally messaged through Facebook.
Beardilizer is a vitamin and nutrient cocktail that increases the beard growth, offering a treatment that will help anybody looking to jump on the beard wagon.
To purchase Beardilizer, interested customers can visit amazon for a 90 capsules supply at $27.99 with free shipping.
For more information about this product or the campaign, please contact Laurent Cohen at info(at)beardilizer(dot)com
About Beardilizer
Beardilizer is a facial hair enhancer formula designed to help increase strength and growth.