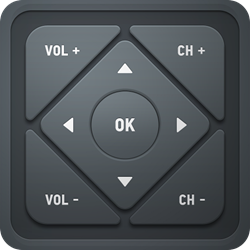 Palo Alto, California (PRWEB) November 26, 2013
Prominent app developer, Color Tiger, is excited to announce the newest version of their Android app Smart IR Remote. Already the go-to application for most technologically-inclined users, Smart IR Remote's simple design and compelling functionality allows consumers to power numerous electronics with a single remote, their phone. Smart IR Remote makes use of the Infrared Blasters already installed in the most popular Android phones and tablets. What stands out about Smart IR Remote, is its advanced customization and automation tools, enabling users to create intuitive, personalized controls for their remotes. Smart IR Remote currently has the most features of all remote apps on Google Play; and with the ability to program over 500,000 supported devices, Smart IR Remote is the best universal remote on the market.
Smart IR Remote Features:
Floating Remote-
Remains active on the phone or tablet while running Smart IR Remote; a mini-remote appears on the home screen even when operating other apps.
Air Gestures-
Control the volume and channel settings with a wave of the hand. Wave hand up and down for changing channels and wave hand left to right to manage volume settings. An exclusive feature for the Samsung Galaxy S4.
Macros-
No more outdated one button, single command remotes! Create custom series of commands for Smart Remote to automate ones entertainment system. With Smart Remote's advanced macros system the user can program their remote to turn on the TV, set it to HDMI 1, and turn on the gaming console with a click of one button.
Automatic Mute/Pause When Receiving Calls-
When the user receives a call on their phone, Smart Remote automatically mutes the devices in use, so they can comfortably answer phone calls.
Back-up/ Restore Remotes-
Allows users to access their saved remotes, so the user does not have to worry about re-programming all electronics when re-installing the Smart IR Remote app or switching phones.
Automated Tasks-
Step into the future of home automation! Customize the remote by automating specific tasks for a specific entertainment system. Set Smart Remote to turn off the TV when being called or program the remote to turn off all devices at a specific time.
Smart IR Remote is available for purchase on Google Play: Smart IR Remote for Samsung/HTC app is currently on sale for $6.99.
Download Smart IR Remote here: https://play.google.com/store/apps/details?id=com.remotefairy&hl=en.
Color Tiger has also released App Ops. App Ops is a system settings app which allows the user to revoke permissions on a per-app basis on the phone or tablet. This app was included by default on Android 4.3 but hidden, and then completely made unaccessible in Android 4.4. The app has been recompiled, and a few improvements like a search button (with more to come later) have been added.
About Color Tiger:
Color Tiger is an innovative development company primarily based in Palo Alto, California. When first hearing of the Infrared Blasters becoming available in the top-selling Android smartphones, the Color Tiger team knew this new technology would be big. Color Tiger then created Smart IR Remote not only as a convenient replacement to the conventional universal remote, but as a powerful tool that would make home automation accessible to general users. In addition to Smart IR Remote, Color Tiger has crafted another Android mobile app, Smart Thermometer.