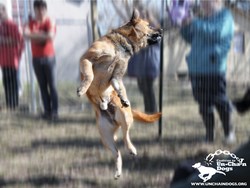 "Animals have a unique way of creating charitable feelings in others," Social Services Committee Chair Attorney Tara Williams said. "It just seemed fitting to partner with the Coalition to encourage others to give during the holidays."
(PRWEB) November 27, 2013
Max and Budda are two loveable, energetic boxer mixes. But perhaps a little too energetic for their owner, a Triangle resident, who recently suffered a stroke and can no longer walk them.
To give the dogs a little outside time, she's forced to tether them to her front porch, but the situation isn't ideal and recently Max was attacked by a stray dog while tethered, so now she is worried for the dogs' safety.
But help is on it's way - recently the Coalition to Unchain Dogs and the Law Offices of James Scott Farrin struck a partnership for INDY Week's new Give!Guide program to help Max's owner and others like her.
The Give!Guide program selected 28 local charities, who were allowed to partner with local businesses to create fund-matching agreements, and all work together to encourage year-end giving throughout the Triangle.
"Basically the Coalition chose us just as much as we chose them," said Farrin Social Services Committee member Cameron Boyette. "Given our history of helping them, they asked if we'd be interested in teaming up with them as their business sponsor, after they were chosen."
According to Boyette, the firm and Coalition's rich history together began "oddly enough" at a Christmas tree decorating contest in 2010.
"I voted for their tree, and later researched them further," Boyette said. "I had been involved with foster programs for dogs for a few years and was impressed with their organization – they do a lot more than just fence building. Afterwards a group of us helped in a couple of fence builds. I was especially impressed that some of the volunteer crew that day consisted of previous fence recipients who were so grateful that they wanted to help out with future fences."
For this reason, the Firm was happy to answer the Coalition's call after they were chosen for the Give!Guide program, said James Scott Farrin Shareholder and Social Services Committee Chair, attorney Tara Williams.
"Animals have a unique way of creating charitable feelings in others," Williams said. "It just seemed fitting to partner with the Coalition to encourage others to give during the holidays."
Amanda Arrington, Executive Director of the Coalition, was equally delighted with the partnership.
"James Scott Farrin has been a tremendous local support to the Coalition, from sponsoring fences to volunteering at our fundraisers and helping to spread the word whenever possible," said Arrington. "We value our partnership and because of all they've done and continue to do, many dogs and families in the Triangle have been helped."
To donate for the event, visit the Coalition's webpage at: give.indyweek.com.
ABOUT THE COALITION TO UNCHAIN DOGS:
The Coalition to Unchain Dogs has chapters in Durham, Raleigh and Orange County, NC and one in Atlanta Georgia. Their mission is to improve the welfare of dogs that are continuously chained outdoors by providing free spaying/neutering services, vaccinations, and fences, while bolstering connections between these dogs and their human companions through non-judgmental assistance and education designed to raise general community expectations regarding the standards of care for these animals.
ABOUT THE LAW OFFICES OF JAMES SCOTT FARRIN:
The Law Offices of James Scott Farrin is headquartered in the American Tobacco Historic District, adjacent to the Durham Bulls Athletic Park, in Durham, North Carolina, with 12 additional offices statewide in Charlotte, Fayetteville, Greensboro, Greenville, Goldsboro, Henderson, New Bern, Raleigh, Roanoke Rapids, Rocky Mount, Sanford and Wilson. The firm's 32 attorneys focus on the following practice areas: Personal Injury, Workers' Compensation, Social Security Disability, Eminent Domain, Intellectual Property, Civil Rights, Mass Torts and Products Liability. Three of the attorneys are North Carolina Board Certified Specialists in Workers' Compensation Law and one is a North Carolina Board Certified Specialist in Social Security Disability Law. The Law Offices of James Scott Farrin is involved in the community, including sponsorship of local philanthropic organizations and an active employee matching donation program.
Contact Information:
David Chamberlin
280 S. Mangum Street, Suite 400
Durham, NC 27701
866-844-4262
http://www.farrin.com
http://www.farrin.com/facebook
http://www.farrin.com/twitter
http://www.farrin.com/youtube