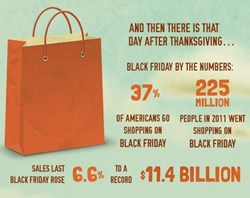 The market is near a peak supply zone, which is a prime selling zone for everyday investors and students of Online Trading Academy.
Irvine, CA (PRWEB) November 26, 2013
Online Trading Academy launched a new infographic about the costs associated with Thanksgiving. The trading and investing academy takes a look at the holiday's impact in three parts; the first highlights the overall costs of a Thanksgiving meal, another covers the cost of Thanksgiving travel, and the third section the rise of Black Friday shopping.
The illustration explains that in the U.S., roughly 280 million turkeys are sold for Thanksgiving celebrations and that the overall turkey consumption has increased 104 percent since 1970. Each year, the average American eats somewhere between 16 to 18 pounds of turkey and on average, a 16 pound turkey costs $22.33. The average turkey costs approximately $1.39 per pound. Between 2011 and 2012, turkey prices rose 3.1 percent. For consumers interested in an organic Thanksgiving meal, Online Trading Academy illustrates that a meal for 10 costs an average $106.03 with a 16 pound organic turkey costing $63.84.
The infographic goes on to indicate that the average round-trip airfare for travel during the Thanksgiving holiday to the 10 most popular destinations in the U.S. has jumped to $373.
Lastly, the infographic Online Trading Academy discusses the economic impact of Black Friday shopping. On the day after Thanksgiving, 37 percent of Americans go shopping for the Black Friday discounts. In 2011, 225 million people went shopping on Black Friday. In 2012, Black Friday sales rose 6.6 percent, which was a record $11.4 billion.
Investors and traders often look to trade off this information based on what it would mean for the markets in the New Year. "With Thanksgiving, Hanukah (a.k.a Thanksgivukkah), and Black Friday falling during the same time period many financial pundits in the media make the point that this year could be a once-in-a-lifetime opportunity for the 'triple-witching' of retail – potentially serving as an early indicator of the stock market trends in the New Year," said John O'Donnell, Chief Knowledge Officer for Online Trading Academy, "However, I would disagree with this statement. The market is near a peak supply zone, which is a prime selling zone for everyday investors and students of Online Trading Academy."
To view and share the Thanksgiving infographic, please visit: http://www.tradingacademy.com/resources/financial-education-center/thanksgiving-spending.aspx.
About Online Trading Academy
Online Trading Academy helps their students by revealing the truth about what it takes to become a successful trader or investor. Their core strategy empowers traders to identify market turning points before they happen, with a high degree of accuracy. Students learn under the guidance of experienced professional traders in a hands-on, learn-by-doing classroom setting. In the Professional Trader course, students learn trading skills and then practice trading live, in the classroom, without paying commissions or risking their own capital by using Online Trading Academy's money.
Online Trading Academy offers professional instruction from experienced industry professionals, as well as a wide array of beneficial home study materials to supplement classroom study. Over 150,000 investors have experienced Online Trading Academy's Education with classroom locations that include: Phoenix, Irvine, Los Angeles, San Jose, Denver, Orlando, Tampa, Fort Lauderdale, Atlanta, Chicago, Kansas City, Boston, Baltimore, Detroit, Minneapolis, New York City, Secaucus, Charlotte, Philadelphia, Austin, Dallas, Houston, Seattle, Washington, D.C., Milwaukee, Dubai, London, Singapore, Mumbai, Vancouver and Toronto. For more information, visit http://www.tradingacademy.com.
# # #