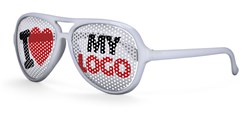 Logolenses presents their new design just in time for the holidays.
Clearwater, FL (PRWEB) November 26, 2013
Logolenses introduces a new addition to their already extensive collection of promotional and personalized sunglasses: the trendy Aviator Personalized Sunglasses.
Logolenses presents their new design just in time for the holidays. With Christmas and New Year's Eve approaching, they unveil the stylish frame which is available in 10 different colors: black, white, neon-blue, green, yellow, orange, pink, red, gold and silver. Perfect for both men and women, the modern design consists of oval lenses which narrow toward the bridge of the nose.
The lenses can also be customized to fulfill the needs of every customer: whether it's imprinted with a logo for brand recognition or with a cool design to stand out at a New Year's Eve party. The branding on the lenses has pinholes which allow to see-through so the glasses can be worn all night long.
The personalized Aviator sunglasses, also known as pilot's glasses, were initially designed in 1936 to protect the pilot's eyes when flying. The style became very popular when portrayed in movie "Top Gun" worn by actors Tom Cruise and Val Kilmer. Although the style's popularity waned since the 80's, it has made a big comeback with the new generation of promotional Aviator glasses.
Logolenses is the #1 manufacturer and distributor of custom logo sunglasses in the United States. They carry customized sunglasses for any type of event at very reasonable prices. Their glasses are a fun way to create business awareness or make a statement at any event like weddings, birthdays, graduations, etc.