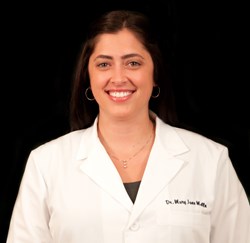 What many people don't understand is that it's the frequency of eating rich, sugary, calorie-laden foods that affects your dental health, not the amount of food being eaten.
Westport, MA (PRWEB) December 03, 2013
The holidays are here, which means you'll be seeing a lot of the 3 F's: family, friends and food.
Whether you like it or not, the next few weeks will provide you with endless amounts of sugary, calorie-rich foods that can do more than just add inches to your waistline. You know those sugary foods can wreak havoc on your pearly whites, but they're so difficult to resist!
Dr. Mary Jane Miranda of Perfect Smiles in Westport and Southcoast Smiles in Seekonk has some helpful hints to ensure your smile stays mistletoe ready throughout the entire holiday season.

Eat a healthy meal before you head out to a holiday party. You are less likely to graze while mingling, saving you calories and damage to your teeth.
Can't decide which dessert to have? Try one of each and eat them in one sitting. Seriously. Dr. Miranda says, "If you constantly snack on sugary foods, your saliva doesn't have the opportunity to offset the acid that is constantly being created and thus causes more damage than one large ingestion of sugar over a short time period."
Sip water in between eating or chew sugarless gum. This will increase saliva and help wash away decay causing bacteria. If possible, drink fluoridated tap water.
Continue to brush and floss regularly. This may sound like a no brainer, but Dr. Miranda says hectic holiday schedules can often disrupt your normal oral hygiene routine.
Holiday stress can manifest in different ways, including jaw clenching and teeth grinding. Consider a night guard from your dentist to prevent damage to your teeth.
Schedule an appointment with your hygienist ASAP. They will be able to diagnose and treat any existing decay. Cavities in their earliest stages can be treated and possibly reversed with fluoride and/or calcium, which helps to strengthen the enamel and make it more resistant to cavities.
If you do find yourself with a toothache during the holidays, schedule an appointment with your dentist as soon as possible.
About Mary Jane Miranda
Dr. Mary Jane Miranda is one of three general dentists at Perfect Smiles Dentistry in Westport and Southcoast Smiles in Seekonk, which emphasizes general family dental care as well as cosmetic procedures. For more information, visit SouthcoastPerfectSmiles.com