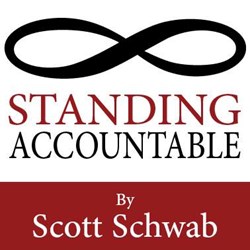 Scott's insights of increased success through accountability are powerful
Scottsdale, AZ (PRWEB) November 29, 2013
Author Scott Schwab shows readers how they can achieve incredible success using a secret that has been hidden in plain sight for ages, personal responsibility. "Standing Accountable: Increase Your Success by Holding Yourself Responsible" presents readers with a key to success that every great leader has had: accountability. The book is available for purchase at http://www.standingaccountable.com.
"Scott's insights of increased success through accountability are powerful. His true-to-life accounts resonate in a strong and very personal way. Overcoming his own personal adversity to stand accountable, not only have made this author a great man, but make his book a must read." – James Clarke, CEO/Managing Partner at Clarke Capital Partners
Standing Accountable starts with thoughts and intentions and provides stepping stones to increasing personal power through responsibility. Changing your thought processes will allow you to see and seize opportunities as they present themselves. Schwab will show readers how to be the change in their own lives.
"Scott Schwab revels how he learned personal accountability and offers profound advice on its importance to those seeking success in business and in life." – Kay Koplivitz, Founder of USA Network
A true entrepreneur, Schwab has active roles with multiple companies, and consults both individuals and businesses on new and refreshing ways to improve. From working with Fortune 50 companies, Inc. 500 companies, and committing to the decision of being a business owner and creating jobs; the number one concept taught and learned by Schwab is accountability. Through his experiences, Schwab lives with the idea that accountability is the key to success.
Scott Schwab is a husband and father of three children, with another one on the way. The family lives in Utah and enjoy the outdoors, being active and living life with the goal of becoming more, being more and empowering more, through accountability. Accountability is the key to the development, satisfaction and success of everything.