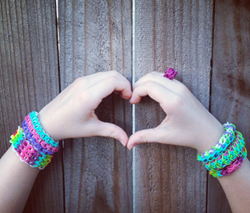 Everyone deserves a little rainbow in their heart. -- Mia LeRoux, Founder
Barrington, RI (PRWEB) November 26, 2013
Mia LeRoux of Barrington, the founder of Looms for Love (a nonprofit organization dedicated to spreading cheer in hospitals and nursing homes) has added another feather to her cap: she's a blog star. Not bad for an eight year old girl.
Since it was founded just this past October, Looms for Love has created and collected hand-made rainbow colored bracelets and cards, which are delivered to residents of these facilities. Her goal is to grow a nationwide community of caring children who will put rainbow cheer in people's hearts.
The latest addition to a growing list of fans is the blog Loom Love, which has featured Mia LeRoux as its first "Loom Star" in this week's entry.
The Loom Love blog joins other organizations such as Girl Scouts, Boy Scouts and school groups in 11 different states across the country that are getting on the Looms For Love bandwagon. Looms For Love has received over 1650 likes on Facebook since it began. Looms For Love has also partnered with Providence, RI radio station's LOOMineer promotional effort.
Girl Scout Brownie Troop #1105 in Valhalla, NY ran a donation drive on behalf of Looms For Love and collected 127 bracelets and made 22 cards. "At the end of our drive...the girls felt pride in their contributions," wrote Troop Leader Jackie Condura in a letter. "They had an understanding of what they did and why. We were happy to be part of it and share in your mission."
Julie Shailer, a Foxboro, Massachusetts Girl Scout Troop Leader feels the same. "I've been looking for a very long time for an opportunity for "kids to help kids" where the children can really touch, feel, see the impact of their actions and this seems like a wonderful opportunity."
Looms For Love is a nonprofit organization, founded by 8-year-old Mia LeRoux, dedicated to advancing the importance of community service and the values of caring and compassion with other kids.
Our 2013/ 2014 focus is empowering kids to spread cheer in hospitals and nursing homes throughout the country.
Looms For Love kids create, collect and share hand-made cards and crafts (this year it is the rainbow loom bracelets). Contact us at http://www.loomsforlove.org, visit on Facebook/LoomsForLove or call us at 401.289.2600.