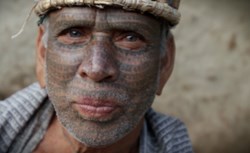 I believe indigenous communities hold a wealth of knowledge.
London, UK (PRWEB UK) 27 November 2013
Sacred Skin, a new documentary series, exploring the fascinating reasons behind traditional tattoos, scarifications and piercings, has launched a campaign on Indiegogo to fund the first episode - igg.me/at/sacredskindoc. Director Maellyn Macintosh will travel to India to document the remote tribes who use tattooing for healing, as a form of currency and to mark their religious beliefs. Backers will be the first to own a copy of the film. Funds will be used to film and edit the first episode.
Sacred Skin is a series of documentaries, where Maellyn will travel through different continents in search of the last indigenous communities who still use body modification as part of their culture. She says, "I believe indigenous communities hold a wealth of knowledge. Their customs are often dismissed as primitive, but looking closer, they have a lot to teach us in the modern world."
Tattoos, piercing and scarification are now becoming mainstream, thanks to celebrities like David Beckham, and the taboos surrounding them are slowly vanishing. But most fashions originate somewhere, usually in the past. In fact, indigenous communities have cut, coloured, pierced and shaped the body for centuries as part of complex rituals. These mark identity, beauty, healing, spirituality, coming-of-age ceremonies, and even occasionally as punishments.  
One of the oldest mummies ever found, Otzi the Iceman, bears tattoos on pressure points which are thought to have eased his joint pains. Indigenous communities in Africa place plant medicines under the skin during scarification and tattooing ceremonies, similar to our modern vaccinations. Tattoos to relieve arthritis are still used in Africa and the Philippines.
Many of these cultures are dying out fast and their stories and customs with them. Dr. Lars Krutak, the world's foremost tattoo anthropologist and presenter of the Discovery series 'Tattoo Hunter', will be acting as advisor on the series. He says, "A lot of these tattooing and scarification traditions are vanishing across the indigenous world, and so the people I work with I consider to be living World Heritage Sites, (their bodies) they need to be documented so that we can preserve that knowledge for future generations."
Maellyn became fascinated by body modification while filming with a group of modern body modification artists and performers in London. She travelled through Europe to meet tattoo artists, scientists and experts in indigenous body modification, including Henk Schiffmacher, owner of the famous Amsterdam Tattoo Museum, and Colin Dale, possibly the world's only expert in Innuit skin stitching tattoos, among others. She also made a trip from Kathmandu in Nepal, through Central India to Southern India in search of indigenous communities who still live as their ancestors did.  
In Central India, far from the tourist route, she met the colourful Baiga tribe, natives of the forest who use tattoos for healing, based on an ancient form of Ayurveda. The women of this tribe wear their  tattoos with pride as they are considered a currency which can be passed on to the next life. She also met the elusive Ramnamis, a low caste tribe whose facial and full body tattoos bear the name of the upper caste god, Ram. This was a brief trip, but now she will return to spend time with these tribes to dig deeper into their stories and understand what tattooing means to them.  She will also travel to other regions of India where piercings and tattooing are part of cultural ceremonies and an essential way of life.
Maellyn has chosen to crowd-fund the first episode, taking the project one step at a time. Funds will be raised by offering the film as a digital download and DVD. Signed copies with behind the scenes footage will also be available. Using Lomography cameras, Maellyn will create a photo-book of the journey, which can be bought as an e-book or a hard copy. Picture postcards of the trip will also be available. Backers can become a Producer or Sponsor of the film. They will receive a personal mention on the website, in the book and in the credits of the film, respectively.
Maellyn is a London based film maker with over 10 years experience directing, filming and editing documentaries, promos, music, event and fashion videos, as well as ethnography. She has filmed in Italy, France, Germany, Ibiza, India, The Netherlands, The Middle East and throughout the UK. She is primarily interested in documenting alternate ways of living, altered states of consciousness and marginalised communities.
She will be supported by Helena Appio as Consultant Producer. Helena is an award winning Director/ Producer with over 20 years experience in television, including 18 years at the BBC where she became a Commissioning Executive in BBC Factual Entertainment and Documentaries.
Dr. Lars Krutak, the world's foremost tattoo anthropologist will act as Expert Advisor. He is also the presenter of the Discovery series, 'Tattoo Hunter', where he journeyed to meet indigenous communities to understand the reasons for their tattoos, and earned the right to be marked as they are. He has worked as a consultant on three major National Geographic television documentaries and has published numerous books .  His body of work is unparalleled and his knowledge of tattooing communities spans almost every continent.
Links:
http://igg.me/at/sacredskindoc
http://www.sacredskin.tv
http://www.facebook.com/SacredSkindocumentary
twitter.com/Sacredskindoc
Contact :
Maellyn Macintosh
Director, Sacred Skin Ltd.
e-mail:  info(at)sacredskin(dot)tv 
Te: +44 (0)7932 752939
###