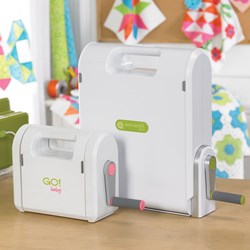 Things are heating up for the holidays here at AccuQuilt and we couldn't be more excited!
Omaha, NE (PRWEB) November 27, 2013
One of the biggest shopping days of the year is right around the corner. AccuQuilt and its independent retail partners are gearing up for a holiday event that would make the jolly man in red proud.
AccuQuilt products make the perfect gift for quilters and fabric crafters. Just like Santa's workshop, there are many fun and exciting items to choose from: cutters, dies, patterns, books, accessories, and more.
"Things are heating up for the holidays here at AccuQuilt and we couldn't be more excited," said Steve Nabity, AccuQuilt Chief Energizing Officer. "We have several new die starter sets for our GO! fabric cutters and special holiday bundles that will appeal to lots of quilters this season. AccuQuilt gifts for the holidays mean all sorts of exciting quilt creations come Spring."
Customers are encouraged to visit local retailers to see what specials they have in store. The best way to see how a GO! fabric cutter can save time is to actually test one out in the store. Many of AccuQuilts retail partners will be hosting events for Black Friday, so support your local quilting and fabric store and see what exciting bundles they'll be offering.
The GO!, GO! Baby, and Studio fabric cutters are designed to make cutting patterns quick and easy. With a wide variety of cutting dies available, the GO! line of fabric cutters offers versatility that has changed the way quilters create. Both new and experienced quilters and fabric crafters can use the GO! cutters to create beautiful works of art. AccuQuilt's extensive line of dies includes all sorts of shapes, so pattern ideas are endless.
AccuQuilt GO! fabric cutters, dies and accessories are available at local quilt and fabric retailers. Quilters also can purchase GO!® and Studio™ fabric cutting systems by visiting http://www.accuquilt.com or calling 888.258.7913.
About AccuQuilt, Better Cuts Make Better Quilts:
Headquartered in Omaha, Neb., AccuQuilt offers quilters, fabric crafters and retailers a premiere line of fabric cutters, dies, quilting patterns and other quilt and fabric cutting solutions that help quilters quickly and accurately cut shapes for quilting and fabric crafts. AccuQuilt also offers quilters a wide variety of rich educational resources to enhance their quilting experiences. Cutting with AccuQuilt cutters is a natural evolution of fabric cutting methods. "First scissors…then rotary…finally…AccuQuilt" for fast, easy, accurate fabric cutting. Visit http://www.accuquilt.com for more information.