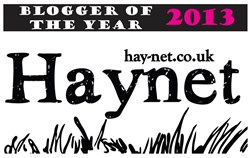 "We're so proud that they have recognized us as a top contributor this year." -Christy Schulthess
Fredericktown, MO (PRWEB) November 27, 2013
Classic Equine Equipment, maker of premier horse stall systems and barn components, is pleased to announce that they have been nominated for the Haynet Blogger of the Year award. Considering the high quality level of content providers that contribute to Haynet's social platform it is quite an honor to be among their top ten picks for 2013.
Haynet began in 2011 as a way for equestrian experts and enthusiasts from around the world to come together and share their knowledge with one other. The U.K.-based social network has quickly become one of the most significant blogging communities in the sport. Contributors can either use Haynet as their blogging platform or link to an existing blog. Haynet itself has been nominated in two categories for the 2013 Equestrian Social Media Awards.
Christy Schulthess, President and COO of Classic Equine Equipment, said recognition from an industry leader like Haynet is reward enough. "With an international platform like Haynet, the nomination for Blogger of the Year is notable. They are well known in the equestrian world for thought leadership, and we're so proud that they have recognized us as a top contributor this year."
Other Haynet contributors include equestrian professionals, equine trainers, expert riders as well as novice riders. Haynet Blogger of the Year nominees are chosen for their consistent, high-quality blog posts. The winner will be determined by a popular vote, which is currently underway. The Blogger of the Year is scheduled to be announced on December 9th.
Readers can vote for Classic Equine Equipment at the Haynet website. To learn more about the company and read the most recent blog posts, please visit: http://www.classic-equine.com.
About Classic Equine Equipment
Classic Equine Equip., Inc. is a leading producer of high-quality stalls, barn equipment and accessories that are custom-made in the USA. Since its founding in 1991, the name Classic Equine Equipment has become synonymous with best-in-class products that are built with the safety of horses and riders in mind. Their equipment has been used in prominent facilities around the world including the Budweiser Clydesdales Breeding Center, Stanford University and the custom facilities of Purina Mills.