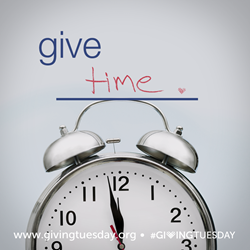 New York, NY (PRWEB) November 26, 2013
On #GivingTuesday – following Black Friday and Cyber Monday – people across the United States and around the world will get together online and in person to kick off the holiday season with a day dedicated to giving back. Individuals will launch their volunteer projects, make online donations and gather at dozens of events to celebrate the start of the holiday giving season and give back to the causes they care about most.
Local #GivingTuesday gatherings and activations take on a variety of forms, including parties designed to help those in need, summits exploring and encouraging philanthropic activity, clothing and food drives, volunteer opportunities and more. These activities are organized by many partners of #GivingTuesday, a movement of organizations, companies, and people dedicated to a collective celebration of giving that increases philanthropy and volunteering throughout the holiday season.
#GivingTuesday, now in its second year, falls on December 3, 2013. The number of organizations and companies that have signed on as partners has more than doubled from the first year, and now stands at 6,225 and growing, in all 50 U.S. states and 15 countries.
#GivingTuesday Events will be Hosted Online and Offline to Create Maximum Impact
Local activities in communities across the United States include the following (a complete list is available here)
Community Missions of Niagara Frontier: On #GivingTuesday at Community Missions, those staying at the Emergency Housing Shelter will be able to receive free haircuts courtesy of Lauren Rose Miller and Rellim Hair Studio, while employees from a local Target store will be painting and updating a three-room common area at the Shelter. Mayor Paul Dyster of Niagara Falls, N.Y. will also declare Dec. 3 as Giving Tuesday in the Cataract City. Community Missions has partnered with the Niagara University Alumni Association on a food drive, while encouraging donations of clothing and furniture to the agency's Crisis Services. Financial contributions are also encouraged, particularly a gift of $19.25, which signifies the year the Mission opened, and provides food baskets of 27 meals to three families for the holidays.
Creative Minds International Pubic Charter School: The St. Regis, Washington, DC will host a #GivingTuesday fundraiser to support Creative Minds International. This charter school has a mission of fostering childhood education in highly enriching ways while focusing on the International Primary curriculum, a highly engaging program based on an international, project –and arts-based approach that includes foreign language instruction as well as standards-based literacy and mathematics. This event is being put together by other local small businesses JBC events, You successful You and Dolci Gelati.
Discovery Education: US -Discovery Education is a company fueled by innovation, full of forward-thinkers who are passionate about harnessing the power of media and technology to transform teaching and learning. For #GivingTuesday, Discovery Education will hold a livestream event for students nationwide to hear from our best and brightest employees about their unexpected and exciting careers that are powered by science, technology, engineering, and math (STEM). This virtual experience will engage classrooms throughout the United States, inspiring thousands of students to dive in and discover exciting career paths that STEM subjects can lead to.
DoGoodBuyUs: NYC, Chicago, Austin - the marketplace for gifts that give back-- is hosting parties across the U.S. to unite the entire country in #GivingTuesday. Supporters of #GivingTuesday can party until Wednesday in NYC, Chicago and Austin by purchasing a ticket. DoGoodBuyUs has also made the official #GivingTuesday mason jars. Get yours to share drinks or candy with friends all year. As a founding partner, DoGoodBuyUs is thrilled to see the exponential growth of the #GivingTuesday movement.
Games for Change: Together with our friends at One Game a Month, Games for Change is excited to host the Charity Game Jam this year. This weeklong charity jam, running from November 23 to 30, challenges developers to create games that raise funding for causes of their choice. They can highlight the importance of a cause they hold dear, shed a light on a little-known issue, or encourage giving and acts of kindness in general. Of the games that have submitted to CharityGameJam.com by November 30 at 11:59 p.m. PST, our judges will select their favorites and highlight them on 1GAM and G4C's site on #GivingTuesday.
Giving Tuesday LIVE (#GTLive) powered by Just Good, TwitChange and Indie GoGo: #GTLive is a special webcast that will take place from 12-3 pm ET that will feature discussions with Holly Robinson Peete, thought leaders from Indie GoGo, UN Foundation and the TODAY Show, and cause-centric holiday gift ideas. Hosted by Shelton Mercer, CEO, TwitChange, Brian Weinberg, Founder, JustGood and media pro Envy McKee, GTLive will be produced from Benjamin's Desk in Philadelphia, PA and carried worldwide over UStream at givingtuesdaylive.org
Jumpstart Labs: A one-of-a-kind mashup of #GivingTuesday and +SocialGood, Faith+GivingTuesday+SocialGood, organized by Jumpstart Labs with partners across the U.S., will highlight the vital role that faith communities play in advancing the common good through philanthropy. Key topics include how to overcome communications gaps, how to advance the effectiveness of religiously motivated giving, and how to ensure that faith-based nonprofits and social innovators have access to a level playing field when it comes to funding and policymaking. Details can be found here.
Kimmel Center for the Performing Arts: –Philadelphia - This #GivingTuesday, the Kimmel Center for the Performing Arts' campus is hosting a "winter gear" drive to benefit Cradles to Crayons. Cradles to Crayons is an organization that provides children from birth to age 12, living in low- income and homeless situations, with the essential items they need to thrive. Cradles to Crayons has a shortage of warm winter gear, so our collection drive is needed and well timed. The Kimmel Center is the only organization participating with Cradles to Crayons for #GivingTuesday and we are proud to work collaboratively with: The Chamber Orchestra of Philadelphia, Opera Philadelphia, The Philly Pops, Pennsylvania Ballet, PHILADANCO, Philadelphia Chamber Music Society, and the Philadelphia Orchestra.
Schusterman Foundation: New York and Los Angeles - The Schusterman Philanthropic Network (SPN) is supporting #GivingTuesday events on both coasts! In New York, SPN is partnering with Natan to host an evening of food, drinks and inspiration with a community of individuals committed to changing the world through giving and doing. This #GivingTuesday Social is where #MakeItPossible meets #MakeItHappen. In Los Angeles, SPN is among the co-sponsors of Faith+GivingTuesday+SocialGood, which will celebrate and explore the vital role that faith communities play in advancing the common good through philanthropy.
The Family Dinner Project: The Family Dinner Project wants to put the giving back in Thanksgiving by sparking conversations about giving and #GivingTuesday at family tables across the country – during Thanksgiving dinner (or leftover lunches). The Family Dinner Project — a grassroots movement of food, fun and conversation about things that matter — has created a free Thanksgiving toolkit that includes giving tips, conversation starters, games and many more resources to help families decide how to give – not just money, but time and simple acts of kindness.
United Nations Development Programme: New York, UNDP staff will be volunteering around the city in several different neighborhoods. UNDP, working with the City of New York have been working together to find projects that can make a difference in these local communities.
Global Activations take Shape around the World
In its second year the #GivingTuesday movement is already expanding internationally, with the partnership of the United Nations Development Programme and 15 other countries, citizens around the world are banding together to "get out the give" and celebrate local heroes in their communities. December 3 activities in communities outside the United States include:
Australia: Yelp Australia Pacific will be running simultaneous "Giving Shoes Day" events nationwide for the public, ranging from fashion styling workshops to skating and street demos. Entrance to the event will cost a pair of used (but not abused) running shoes that will be donated to Shoes for Planet Earth nationwide. Online custom shoe design store, Shoes of Prey, will be offering a discount voucher for every person who donates a pair of running shoes or $10 on the night.
Bangladesh: In Bangladesh, UNDP is focusing on the importance of philanthropy for sustainable development and engaging young people to get involved in their local communities. Following a roundtable on the importance of volunteering and philanthropic action, the UNDP office in Bangladesh will kick off a month long social media campaign using the global hashtag with their own #GivingTuesdayBD.
Burundi: In Burundi, doctors and nurses face a near chronic shortage of blood to treat patients. In response, UNDP has organized a blood drive at the UN House in the capital Bujumbura to boost the supply to hospitals and clinics across the country. Additionally, a social media storytelling campaign offering testimony of the event will help spread awareness about the importance of giving blood throughout Burundi and beyond.
Canada: This year, with GivingTuesday falling just one day before CIBC Miracle Day, CIBC will launch a one-day Twitter campaign on Tuesday, December 3rd to drive additional corporate donations from CIBC to CIBC Children's Foundation with the help of retweets. For every retweet of CIBC's #GivingTuesdayCA tweet on December 3, CIBC will donate $1, up to a maximum of $10,000.
Denmark: UNDP Denmark also plans a blood drive in Copenhagen on the 3rd of December to bolster resources for patients in Denmark too.
Singapore: For every MasterCard contactless PayPass payment made on 3 December, MasterCard will make a contribution to Singapore Children's Society (SCS). Additionally, internally, MasterCard will also match dollar for dollar all employee donations made to SCS on that, and planning a fun day out for its employees and beneficiaries from SCS.
Thailand: The UNDP's office in Thailand is joining forces with Second Chance, a non-profit organization that works with impoverished residents in Bangkok. It provides goods that are both donated and sold to support vocational training, soccer camps and youth clubs, and also direct donations to improve the lives of those who live in the slums.
Venezuela: FIPAN, from Venezuela, celebrates "Volunteer day" on Dec 3rd, 55th anniversary this year. Their aim that day is to highlight the people that GIVE regularly, their volunteers.
The List of Partners Continues to Grow
More than 6,500 companies and organizations are involved in #GivingTuesday, using the opportunity to activate employees, supporters, and customers around their causes. By making #GivingTuesday their own, this network of partners is helping to create a movement and continues to grow every minute. Some recent additions to this growing list of partners includes:
eBay Inc.: From #GivingTuesday through Dec. 31st, PayPal is asking donors to Stamp out Checks…for GOOD by offering everyone a quick, easy and efficient way to give this holiday season. While digital fundraising is on the rise, inefficient donation methods – like checks – are still the norm. Through, StampOutChecks.com, donors can choose from thousands of vetted nonprofits – big and small – to contribute and PayPal will ensure that 100% of each donation reaches the donor's selected organization. Better yet, PayPal will grow each gift by adding the cost of 12 stamps ($5.52) to each donation made through the platform. To encourage giving beyond the holidays, donors will also be able to sign up for an automated monthly giving tool that makes it easy to make an impact throughout the year. Just as PayPal provides the faster, safer way to pay and get paid, the company is committed to powering giving through fast, safe and easy ways to give. Also keep an eye on eBay Deals: between December 3-7, at least 10% of the proceeds from the sale of some of the season's hottest gifts will benefit a nonprofit.
Google: Google+ and Mashable are partnering to host the first ever live "Hangout-a-thon," a 12-hour event on Google+ that will feature content from a variety of nonprofits, celebrities, and social responsible businesses. Participants will include Neil Blumenthal and Jeff Gilboa (founders of Warby Parker), Chris Daughtry, Sophia Bush, and more. Viewers will also be able to donate to the charity of their choice while watching the Hangout." More information can be found here.
Lucky Brand: Lucky Brand has partnered with The Art of Elysium, a non-profit that encourages working artists, actors and musicians to voluntarily dedicate their time and talent to children who are battling serious medical conditions. Throughout the month of December, more than 200 children who are undergoing serious medical treatment during the holidays will receive custom-created art kits, sponsored by Lucky Brand and donated in-person by our employees at events throughout Los Angeles.
Microsoft: This holiday season, Microsoft and Erica Domesek, creator of P.S. – I Made This will host a DIY celebration on #GivingTuesday to show how Microsoft products and services can help "make it possible" for consumers to do the things that matter. The event is designed to drive a connected experience for top LA editors and local nonprofit partners, and involve guests in making a difference. On #GivingTuesday, Microsoft will provide a 1:1 matching donation for gifts on GlobalGiving.org/YouthSpark/Heroes to organizations that provide education, employment and entrepreneurship opportunities for young people around the world.
National Geographic: The National Geographic Society, a global nonprofit with a mission to inspire people to care about the planet, is reminding its millions of members and social media followers that Giving Tuesday is about "Giving to Something Bigger Than Ourselves". Outreach across all of its platforms will encourage support for projects that advance sustainability and conservation, as well as specific efforts like the Big Cat Initative's "Build a Boma" to help save lions.
Not For Sale: On #GivingTuesday, international anti-human trafficking organization Not For Sale is launching its first peer-to-peer fundraising initiative as a part of the One Million for Freedom campaign. As part of their partnership with Not for Sale, the following influencers will leverage social media to promote peer to peer fundraising - Jeremy Affeldt (SF Giants), Oliver Trevena (Young Hollywood), Chloe Flower (performing artist), Jeannie Mai (TV host), and Sarah Ferguson (Duchess of York). More information can be found here.
PETA: On #GivingTuesday, PETA will promote a link via social media, text and email that takes visitors to the organization's landing page that has information about PETA's mission and #GivingTuesday, then presents a $5 ask (as well as other amounts, if one chooses). After the donate page is a landing page with optional share links for Twitter and Facebook, so participants may share how they gave this year. All support raised through our partnership with #GivingTuesday will benefit PETA's groundbreaking work toward animal rights.
UN Volunteers: In the run up to International Volunteer Day (IVD) on 5 December 2013, UNV will feature 10 Online Volunteering Award Winners on its social networks. The public can vote for their favorite winner which will be announced on IVD. When each Online Volunteering Award Winner is featured, UNV will inspire the world to take similar actions: each post will include a link to online volunteering opportunities in similar thematic areas. UNV will also encourage volunteers around the world to take part in #UNselfie as proof that voluntary action can have a positive impact.
Verizon: The Verizon Foundation is focused on accelerating social change by using the company's innovative technology to help solve pressing problems in education, healthcare and energy management. Since 2000, the Verizon Foundation has invested more than half a billion dollars to improve the communities where Verizon employees work and live. This holiday season, the Foundation is hosting its second annual Spirit of the Season campaign – a program that gives Verizon employees a voice in determining which global causes to support. Through the campaign, Verizon employees can simply select one of three worthy non-profit organizations -- Teachers Without Borders; the Juvenile Diabetes Research Foundation; the Solar Electric Light Fund -- that matters to them. For each employee vote, the Verizon Foundation will donate $50 to the cause, up to a maximum of $50,000 per organization. At Verizon, giving back during the holiday season has never been easier.
#GivingTuesday owes much of its strength to grassroots support from people across America who are taking what has in the past been a private act of giving and going social with it. They are talking to friends, neighbors, colleagues, and family about their passion for their chosen causes. Among the most active supporters are the #GivingTuesday Social Media Ambassadors who are participating in daily activities designed to help them support the movement by encouraging their active social media networks and communities to get involved.
For more information, visit http://www.givingtuesday.org.
# # #
About #GivingTuesday
#GivingTuesday is a movement to celebrate and provide incentives to give. It will culminate with a global day of giving on December 3, 2013. This effort harnesses the collective power of a unique blend of partners – charities, families, businesses and individuals – to transform how people think about, talk about and participate in the giving season. #GivingTuesday inspires people to take collaborative action to improve their local communities, give back in better, smarter ways to the charities and causes they celebrate and help create a better world. #GivingTuesday harnesses the power of social media to create a global moment that is dedicated to giving around the world.
A team of recognized experts and influencers, initially convened by leaders of 92nd Street Y and the United Nations Foundation and supported by a core group of founding partners, originally spearheaded this effort. The founding partners in 2012 included Blackbaud, the United Nations Development Programme, Dynamic Signal, Pvblic Foundation, DonorsChoose.org, charity: water, Darden Restaurant Group, GlobalGiving, Groupon, Iraq and Afghanistan Veterans of America (IAVA), jcpenney, Kiva, Mashable, Microsoft, Unilever, and VentureThree Capital, among many others. Leaders in philanthropy, social media, innovative giving, grassroots organizing, marketing, and communications are providing counsel and resources to help build this movement.
To learn more about #GivingTuesday participants and activities or to join the celebration of giving, please visit:
Website: http://www.givingtuesday.org
Facebook: http://www.facebook.com/GivingTuesday
Twitter: twitter.com/GivingTues