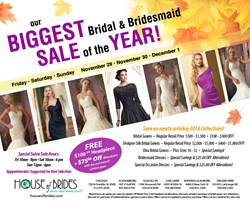 Industry Consultant, Dale Buziecki states, 'The Biggest Bridal and Bridesmaid Sale of the Year features the lowest prices and best promotions. House of Brides offers savings exclusive to this sale.'
Glen Ellyn, IL (PRWEB) November 26, 2013
The retailer's 6 salons report appointment requests began immediately after opening Monday and continued through the day. Management expects the requests to continue through the week. Sale advertisements show steep discounts on bridal and bridesmaid dresses plus additional storewide savings.
The sale includes wedding dresses originally retailing $500 - $1,500, on sale for $100 to $300 off. Designer Silk gowns originally $2,000 - $5,000, are on sale for $400 - $1,000 off. Special savings are available on Diva wedding dresses, sizes 18 – 32.
Customers also receive a free headpiece and $75 off alterations with the purchase of a wedding gown during the sale.
The retailer is offering special savings on bridesmaid dresses. The salons offer over 700 different styles for parties to choose from including newly arriving 2014 dresses. Special occasion dresses are also on sale.
Customers will receive $25.00 off alterations with the purchase of a maid's dress or special occasion gown.
The sale this Friday, Saturday and Sunday is an annual event, which coincides with the kick-off to the holiday shopping season. The retailer offers sales throughout the year but qualifies this sale as it's biggest.
Industry Consultant, Dale Buziecki states, "The Biggest Bridal and Bridesmaid Sale of the Year features the lowest prices and best promotions. House of Brides offers savings exclusive to this sale."
The 6 weddingsalons are hosting the sale. The salons are located in Chicago, Schaumburg, Glen Ellyn, Oak Law, Aurora and Orland Park.
The Biggest Bridal and Bridesmaid Sale of the Year is Friday November 29th 10:00 a.m. – 9:00 p.m., Saturday November 30th 10:00 a.m. – 6:00 p.m. and Sunday 12:00 p.m. – 6:00 p.m. at all salons.
Appointments are strongly suggested.
Visit the website to see the ad on the Store Promos page or to find a salon on the Locations & Hours page.
About House of Brides:
House of Brides established its first brick-and-mortar store in 1929 and has since grown to 10 Chicagoland stores and global E-Commerce website, http://www.houseofbrides.com/default.aspx. Millions of brides and their wedding parties visit the salons and global website for over 50,000 wedding and special event products.