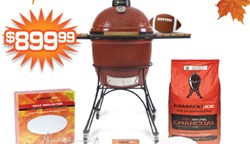 Austin, Texas (PRWEB) December 06, 2013
Timbertown Austin is well known in Central Texas for being a leading supplier of lumber, but the company wants consumers to know they can also get their outdoor cooking accessories from Timbertown Austin as well. In celebration of the football season Timbertown Austin is offering a special promo that provides everything needed to fire up the grill.
For a limited time customers can get a Kamado Joe Smoker and Grill with accessories for just $899.99. The complete kit includes:

Kamado Joe Smoker and Grill
100% Natural Lump Charcoal from Kamado Joe
Kamado Joe Fire Starters
Kamado Joe Classic Heat Reflector
Ceramic Pizza Stone
About Kamado Joe Grills and Accessories
Ceramic grills from Kamado Joe provide a superior cooking experience that makes grilling more efficient. The unique design allows charcoals to heat up in just 15 minutes greatly reducing the total cook time. This puts Kamado Joe grills on par with gas grills.
The air flow can be adjusted on each grill, which allows users to implement a variety of cooking styles – grilling, roasting, smoking or baking. Regardless of the cooking style, the ceramic design allows Kamado Joe grills to better insulate the food, locking in moisture and flavor. Taste is also improved when using Kamado Joe 100% Natural Lump Charcoal, which is included in the promo deal. It has been found to burn hotter, longer and cleaner than other briquettes and gas resulting in a more pure charcoal taste.
For more information on Kamado Joe Grills and accessories, or to get the complete kit at the special promo price, please visit the Timbertown Austin outdoor grills section.
About Timbertown Austin
The experts behind Timbertown Austin have over 50 years of experience in supplying outdoor lumber for a wide variety of projects. Serving the Austin and the surrounding areas, TimberTown Austin has built a solid reputation as a reliable resource for softwood and hardwood lumber, composite decking, hardware deck accessories and more.