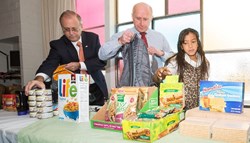 Albany, NY (PRWEB) November 27, 2013
Thousands of people in our local communities face food insecurity and hunger throughout the year, but with the help of organizations like the Regional Food Bank of Northeastern New York, many of those who might otherwise go without food have a place to turn.
That is why CDPHP® is proud to once again support the Regional Food Bank's BackPack Program through the annual CDPHP Holiday Appeal. The program, which provides nutritious, easy-to-prepare foods to children in need in grades K-6, has grown tremendously over the past year, now serving 1,000 children in 42 schools across 14 counties. Each Friday, these students receive a backpack filled with food to take home over the weekend.
Throughout the month of December, CDPHP will match donations, dollar-for-dollar, up to $10,000. All funds designated for the 2013 CDPHP Holiday Appeal will go toward the BackPack Program.
Donations may be made online at http://www.regionalfoodbank.net (select CDPHP Holiday Appeal) or by mail to the Regional Food Bank of Northeastern New York, 965 Albany-Shaker Road, Latham, NY 12110.
About CDPHP®
Established in 1984, CDPHP is a physician-founded, member-focused and community-based not-for-profit health plan that offers high-quality affordable health insurance plans to members in 24 counties throughout New York. CDPHP is also on Facebook, Twitter, LinkedIn and Pinterest.
About the Regional Food Bank of Northeastern New York
The Regional Food Bank has been helping to feed the poor and hungry in our communities since 1982. It is the only organization of its kind in northeastern New York. The Food Bank collects large donations of food from the food industry and distributes it to charitable agencies serving hungry and disadvantaged people in 23 counties.