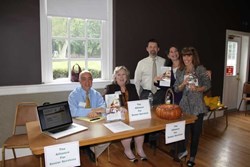 Many family members are faced with a myriad of decisions regarding the care of a loved one and don't know where to turn or begin.
Teaneck, NJ (PRWEB) November 30, 2013
The impetus for the TASS organization was the apparent need for a central source of competent, ethical, caring advice and support for seniors and their caregivers.
According to Jeff Duncan, co-founder and president, "Many family members are faced with a myriad of decisions regarding the care of a loved one, and don't know where to turn or begin. With the population aging as a result of increased longevity, the need for trusted advice and direction for proper care was imperative."
"Individuals who find themselves thrust into a decision making position for a family member or friend should not have to look in a phone book for help", explains Karla Cino, the group's other co-founder.
Before the formation of the Alliance, several colleagues witnessed the increasing need for a myriad of services and the idea to bundle them into one became the solution for an aging population.
Through TASS, families and friends can find a group of dedicated professionals committed to helping aging loved ones with direct care and assistance in several areas. These areas are based primarily on the members' core expertise, which currently include healthcare, therapy, legal, accounting, financial services, household services, personal services such as bill paying, medical equipment and supplies, housing, real estate, to name a few.
While the services provided by the individual members of TASS are not provided for free, the organization as a whole endeavors to provide free, necessary education for the seniors and families that will eventually consider utilizing their services. In 2013, the TASS organization participated in several events such as the Wyckoff Health Fair in September, seminars such as the August conflict resolution workshop conducted by Five Star Premier Residences, as well as provided information of several health awareness issues throughout the year at its news portal.
The group typically meets on the first Friday of each month to educate one another about their respective areas of expertise, so that the participants can become more valuable as a referral resource to its clients. If a particular service cannot be provided by members of the core group, through their wide network of contacts, they will locate someone who can assist an inquiring individual. Guest speakers frequently are available to enlighten members about changes and enhancements in the ever expanding senior population.
Individuals can call toll-free at 1-866-317-0777 explain their needs and receive a referral to a TASS professional in their area who will assist them. There are no fees for the referral.