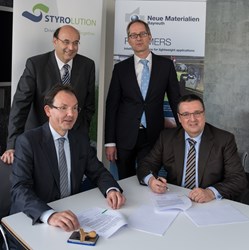 I am confident this move will ultimately benefit customers by enabling Styrolution to accelerate and enhance its R&D efforts to co-create new styrenic solutions for customer applications.
Frankfurt, Germany (PRWEB UK) 27 November 2013
Styrolution today announced it has entered into a partnership with Neue Materialien Bayreuth GmbH (NMB) and the University of Bayreuth. Styrolution will complement its existing R&D efforts by tapping into the broad intellectual and infrastructural polymer research resources of its new partners. This goes beyond traditional models of corporate cooperation with academia in that NMB and the university are making their infrastructure easily accessible to Styrolution. The partnership enables the company to focus its R&D activities on downstream customer innovations across five core industries: automotive, electrical & electronics, household appliances, building & construction, healthcare & diagnostics. Initial projects will focus on the fields of lightweight structures and 3D printing.
Key points:

A unique R&D model for the plastics industry: Going well beyond sponsoring a graduate-level research project, the partnership offers Styrolution a dedicated research team, including a managing scientist and access to other highly qualified research personnel through NMB. The managing scientist's role will be to constantly evaluate new technologies for use in the field of styrenics. Styrolution expects this permanent seed creation process to steadily grow the innovation pipeline in both size and value. Through its close cooperation with the Department of Macromolecular Chemistry at the University of Bayreuth, Styrolution will also profit from the expertise of world-renowned experts like, Professor Hans-Werner Schmidt, who has profound expertise across many areas of basic and applied polymer science. In addition, the company will enjoy direct access to both NMB's and the university's laboratory facilities and technical infrastructure, where Styrolution can conduct material and processing analyses as it further develops new styrenic products for customer applications. The location will also play a key role since the Upper Franconia region in Germany is known throughout Europe as a hotbed for polymer innovation and is home to a host of companies specializing in polymer production and compounding.
Customer-centric innovation is at the center of Styrolution's market approach: True to its claim – Driving Success. Together – Styrolution takes pride in working shoulder-to-shoulder with customers to help them achieve their business objectives. This also applies to the field of innovation, where Styrolution offers services ranging from development support all the way up to co-creation projects to solve polymer challenges for specific customer applications. Styrolution will also leverage the partnership to pursue frontline development projects that will expand the scope of Styrolution's technologies.
Addressing the latest trends in material innovation: Styrolution will focus its R&D resources in Bayreuth on the next generation of material development to ensure it continues to remain at the forefront of innovation.
Lightweight structures: Manufacturers from industries ranging from automotive to building & construction turn increasingly to styrenics for lightweight alternatives to other materials, such as metal or heavier plastics. Through the partnership, Styrolution will put greater emphasis on optimizing and developing new styrenics-based lightweight structures that will promote further carbon footprint reduction and fulfill the sustainability requirements of its customers. Styrolution will benefit from expertise in polymer foams, polymer composites and sandwich materials held by the polymer division at NMB and the university's Department of Polymer Engineering, both of which are headed by a world-renowned scientist in the field of applied polymer science, Professor Volker Altstädt.
3D printing: Styrenics are set to play a pivotal role in one of the hottest trends in decades – 3D printing. IT analyst firm Gartner predicted that "worldwide shipments of 3D printers are expected to grow 75 percent in 2014 followed by a near doubling of unit shipments in 2015. The consumer market hype has made organizations aware of the fact that 3D printing is a real, viable and cost-effective means to reduce costs through improved designs, streamlined prototyping and short-run manufacturing." Styrolution is already a key material supplier for a portion of the market's plastic ink used in 3D printing.
Styrolution recently hosted a panel discussion about the future of plastics and the role of styrenics. Lightweight materials and 3D printing were key trends panelists addressed in the discussion. To view a video summary, please start the video on this page.
Co-creating with young talent in polymer science: The partnership will create an environment of innovation that will attract some of the brightest young minds in polymer science to Bayreuth. Master and doctoral students will have the opportunity to put theory and research into practice by collaborating directly with Styrolution and its customers on commercial projects from a range of industries. This practical experience will provide students with a distinct advantage from their peers, while also opening potential doors for further career development after graduation.
R&D partnership aligns with Styrolution's 'triple shift' growth strategy: The partnership is in harmony with the company's growth strategy, which calls for three 'shifts' intended to put greater focus on measures that will expand its footprint in higher-growth industries, styrenic specialties, and emerging markets. The cooperation will enable Styrolution to address specific customer application needs across core industries: automotive, electrical and electronics, household appliances, building and construction, healthcare and diagnostics. It will also make it possible to further develop its portfolio of styrenic specialty copolymers.
Quotes:

Roberto Gualdoni, CEO, Styrolution: "At Styrolution, innovation is part of our daily lives and is not only reflected in our products but also in the way we do business. Partnering with NMB and the University of Bayreuth to establish an outsourced R&D center grants us direct and immediate access to world-class facilities and research capabilities. I am confident this move will ultimately benefit customers by enabling Styrolution to accelerate and enhance its R&D efforts to co-create new styrenic solutions for customer applications."
Professor Volker Altstädt, CEO, Neue Materialien Bayreuth: "Megatrends like globalization and population growth are changing the world at a rapid pace. These trends are also driving new developments in material science and specifically styrenics. We at NMB are eager to work side-by-side with Styrolution to address these trends by creating the styrenic innovations of tomorrow."
Professor Hans-Werner Schmidt, Department of Macromolecular Chemistry, University of Bayreuth: "Going well beyond traditional corporate sponsoring of graduate research, this partnership proves Styrolution is also a pioneer in its approach to R&D concepts. We are optimistic that the link forged today between Styrolution, NMB and the university will also enable us to enrich our students' curricula through industrial experience and real-life exposure to the exciting challenges of polymer science and technology."
Dr. Norbert Niessner, director global R&D and intellectual property, Styrolution: "By creating this unique R&D collaboration model with the leading polymer research site in Bayreuth, we have set the foundation for achieving breakthrough R&D results in new applications and system solutions that will drive Styrolution´s position as innovation leader to the next level."
ABOUT STYROLUTION
Styrolution is the leading, global styrenics supplier with a focus on styrene monomer, polystyrene, ABS Standard and styrenic specialties. With world-class production facilities and more than 80 years of experience, Styrolution helps its customers succeed by offering the best possible solution, designed to give them a competitive edge in their markets. The company provides styrenic applications for many everyday products across a broad range of industries, including automotive, electrical and electronics, household appliances, building and construction, healthcare and diagnostics, toys/sports/leisure, and packaging. In 2012, sales were at 6 billion euros, resulting in an EBITDA before special items of 335 million euros. Styrolution employs approximately 3,200 people and operates 17 production sites in ten countries.
For further information please visit http://www.styrolution.com
ABOUT NMB
The Neue Materialien Bayreuth GmbH (NMB) is an independent research and technology development provider in the field New Materials. Main focus is on development of novel combinations of materials and respective processes for polymers, metals and high-performance composites for light weight structures. Within the scope of NMB are R&D alliances with companies to target the development of new manufacturing processes and process-related material optimization with respect to strategically advancing industrial requirements. Furthermore NMB is involved in public funded projects. Cooperation partners derive from various fields including automotive, aeronautical and mechanical engineering, medical, packaging and energy technology.
Founded in 2000, MNB is institutionally funded by the Federal State of Bavaria in Germany. The close relationship to the University of Bayreuth provides NMB to be the major player in expertise in the field of materials for the whole region.
For further information please visit http://www.nmbgmbh.de
ABOUT UNIVERSITY OF BAYREUTH
The University of Bayreuth (UBT) is a dynamic research oriented campus university with 13,000 students and over 200 full-time professors spread across six faculties in the natural and engineering sciences, the social sciences and the humanities. Founded 38 years ago, UBT is a modern and growing institution and one of the leading and progressive medium-sized universities in Germany. UBT is consistently ranked top in Germany in the CHE Higher Education and DFG Research rankings for the high quality of its studying, research conditions and research output. In the Times Higher Education ranking of the top 100 universities under 50 years old, the University of Bayreuth is ranked number 40, second best in Germany.
Based on its strategic concept the University of Bayreuth centers its research activities in selected profile areas. One of the strongest and most recognized profile area is Polymer and Colloid Science.
For further information please visit http://www.uni-bayreuth.de/index.php
PRESS CONTACT
Jeremy Whittaker
Global Manager, Public Relations
Styrolution Group GmbH
Erlenstrasse 2
60325 Frankfurt
Germany
Phone: +49 069 509550-1025
Email: jeremy(dot)whittaker(at)styrolution(dot)com
Website: http://www.styrolution.com