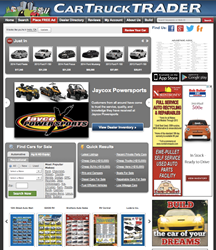 Auto Dealers will be scrambling to not only replace the leads they previously got from Craigslist but also for a way to effectively market their inventory through local internet channels. In my opinion, AutoConX is the perfect solution.
Inwood, Iowa (PRWEB) November 27, 2013
AutoConX Systems - As of December 3, 2013, Craigslist will charge car dealers $5.00 per vehicle for a (30) thirty day listing across the United States http://www.craigslist.org/about/ctd. The implications of this change are still undetermined, however, publishers should leverage this opportunity and reposition themselves with dealers and the general public as an automotive search alternative to Craigslist.
How does Craigslist's new charge structure impact auto dealers?
While many dealers will continue to use Craigslist, many will not. The cost per vehicle may be prohibitive for some dealers. In addition, many dealers are using Craigslist posting tools to the tune of hundreds of dollars per month to automatically post and refresh their inventory. This practice may come to an end as will the dollars spent on these tools and services.
How can publishers capitalize?
By having a local, alternative automotive vertical solution for dealers, publishers can take advantage in the shift in Craigslist policy and this potential shift in dollars.
AutoConX Systems partners with publishers offering a robust, full-featured, Automotive Vertical Solution platform that can not only offer auto dealers an alternative to Craigslist, but also a local alternative to the national auto search sites. AutoConX is helping publishers regain their automotive advertising across the country.
"I think it is ironic," said Rob Hage, CEO of Digital Community Holdings. "Craigslist pressured us as an industry to compete with a freemium business model, and now that newspapers have adjusted to play the game, they are leaving the field. I think the opportunity is to stick with this model, and continue to offer free basic services bundled with exclusive up-sells and personalized services. I continue to trust in the quality of local publisher audiences over any national site."
"This is a game changer," says Joe Mathes, Wisconsin Publisher and owner of the yourareacars.com Network (cars920.com, etc.). "Auto Dealers will be scrambling to not only replace the leads they previously got from Craigslist but also for a way to effectively market their inventory through local internet channels. In my opinion, AutoConX is the perfect solution."
AutoConX Systems can help combine locally trusted brand (print publications) with all the digital solutions dealers want and need with the feature rich platform which includes Premium Dealer Directory listings, SMS Text messaging platform, Toll-free tracking phone tools, Social Media upsells, Turn-key Dealer Responsive Design websites, Reverse publishing Web to Print tools and much more.
Sites like cars920.com and cartrucktrader.com are great examples of combining the power of print with a local auto platform. Use the power of trusted newspaper brands and the power of packaging print with online to achieve great results for dealers and a boost in revenue for publications.
For Publishers Using The AutoConX Platform:
If a publisher is already using the AutoConX platform, Mathes recommends the following:
· Approach dealers that are not using an auto vertical at the present time. This is the perfect opportunity to sell that elusive dealer. They need new lead sources and may have extra money in their budget if they are canceling their Craigslist posting service. $5.00 per car is still a bargain for advertising but with AutoConx solutions they are much more cost effective.
· Upsell dealers to more print (both display and classified). Newspapers are proving everyday that local print still works for automotive advertising.
· Get dealers to utilize the AutoConX Systems SMS marketing program. Dealers using this feature are starting to get real traction and are generating solid leads on a monthly basis.
· Upsell the dealer to the new AutoConX Systems Premium Directory. This feature gives the dealer expanded presence on the site in numerous ways. Increased visibility can translate into increased lead generation. There is a nominal monthly fee for this service
· Bundle or package all of the above.
About AutoConX Systems:
AutoConX is a complete white label Automotive Vertical Solution offering a robust, yet affordable vertical platform that will put publishers in the driver's seat with local dealers. The entire system is designed by, and for print publishers. It is also the digital platform for its parent company: Digital Community Holdings, Inc. (http://www.DCH.com).
To learn more about AutoConX Automotive Vertical platform, please visit: http://www.autoconx.com or email sales(at)autoconx(dot)com.