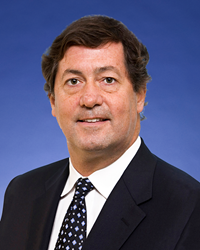 In addition to the energy that the AP1000 plant provides, Westinghouse is committed to benefitting the local economy through our We Buy Where We Build™ approach to new-plant development. ~Jeff Benjamin, SVP, Westinghouse Nuclear Power Plants
PITTSBURGH (PRWEB) November 26, 2013
To read this news release in Portuguese, visit the Westinghouse newsroom.
Brazil's growing economy, rich uranium reserves and commitment to clean energy sources make it ideally suited for new nuclear energy development based on the latest safety technologies, the leader of Westinghouse's new-plant business said this week.
"Brazil is in an excellent position to diversify and strengthen its energy portfolio with the reliable, clean, baseload generation that nuclear power offers. An investment in new plants that feature the next generation of passive safety systems will help Brazil to successfully meet its increasing energy needs while maintaining the clean environment that its citizens value," said Jeff Benjamin, senior vice president of Westinghouse's Nuclear Power Plants (NPP) product line.
Brazil ranks among the top 10 globally in several economic categories, including gross domestic product, uranium reserves and installed capacity. Benjamin noted that its energy demands are projected to increase nearly five percent each year through 2021, and could increase even more as a result of further improvements in standard of living. Nuclear energy is poised to be an important source of the new electricity generation needed in the country.
"The Westinghouse AP1000® plant's proven passive safety features, strong licensing pedigree and modular construction provide superior delivery certainty – a key factor for countries looking to establish or expand their nuclear energy infrastructure," Benjamin said.
Benjamin was a main speaker Tuesday at the sixth annual International Nuclear Atlantic Conference (INAC 2013) at Recife, Brazil. The theme of the conference – The Benefits of Nuclear Technology for Social Inclusion – is intended to promote discussion of the benefits that nuclear technology brings to society, the economy and the environment.
His 10-day visit to the country also included an earlier presentation at the Federal University of Rio de Janeiro. Two students from the university will intern at Westinghouse's U.S. headquarters next year through the Brazilian government's Scientific Mobility Program.
"Westinghouse, together with its majority owner Toshiba, is proud to be a long-time partner in Brazil's nuclear energy program through our work with Indústrias Nucleares do Brasil (INB) on fuel and manufacturing technologies, as well as our service work with Eletronuclear's Angra fleet for the past 15 years. We see more opportunities to support the country's energy needs through the development of new Westinghouse AP1000 units, eight of which are currently being delivered to our customers in the United States and China," Benjamin said.
"We believe that the AP1000 plant is the right fit for Brazil, and we look forward to working with our partners and potential customers in the country to put our technology to work powering Brazil's homes and businesses. In addition to the energy that the AP1000 plant provides, Westinghouse is committed to benefitting the local economy through our We Buy Where We Build™ approach to new-plant development. Our strong localization strategy is designed to create thousands of high-paying jobs in Brazil and support the next generation of nuclear professionals," he said.
Tuesday's address at INAC was the culmination of the extensive visit in the region by Benjamin and the members of Westinghouse's Brazil team. Their schedule included meetings with various government leaders, business partners and potential customers in the country.
"With its existing units and nuclear industry already in place, Brazil has established a strong performance history in the nuclear energy sector. It has demonstrated the benefits that nuclear energy can bring in the form of well-paying jobs and the safe, reliable production of clean-air energy," Benjamin said. "We are eager to work with local partners in the country to build on that foundation."
Westinghouse Electric Company, a group company of Toshiba Corporation (TKY:6502), is the world's pioneering nuclear energy company and is a leading supplier of nuclear plant products and technologies to utilities throughout the world. Westinghouse supplied the world's first pressurized water reactor in 1957 in Shippingport, Pa., USA. Today, Westinghouse technology is the basis for approximately one-half of the world's operating nuclear plants.
AP1000 is a trademark or registered trademark of Westinghouse Electric Company LLC, its affiliates and/or its subsidiaries in the United States of America and may be registered in other countries throughout the world. All rights reserved. Unauthorized use is strictly prohibited. Other names may be trademarks of their respective owners.