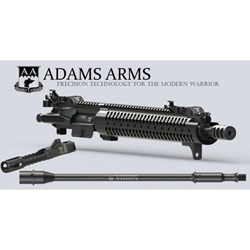 This is the softest shooting rifle we've ever produced. -Jim Granger Vice President of Firearms
Tampa Bay, FL (PRWEB) November 26, 2013
Adams Arms is proud to announce that they will be launching their brand new, revolutionary Competition Optics Rifle for the first time ever on this coming Black Friday. This upper is a game changer when it comes to semi-automatic rifles.
The Adams Arms Competition Optic Ready (C.O.R.) Upper was designed with the professional/competition shooter in mind. It was arranged to be light and nimble with an ultra-soft recoil pulse. To achieve this, Adams Arms started with a 16.5" Light Weight Rifle Length Barrel, then incorporated their patented inverted piston system along with a 20% lighter carrier and a Jet Comp. This configuration allows for an ergonomically correct upper/rifle with maximum allowable hand positioning. This upper requires very little maintenance and is easy to drive from target to target while still offering long range ballistic advantages with a guaranteed ½ inch MOA (minute of angle) at 100 yards. "This is the softest shooting rifle we've ever produced." says Jim Granger, Vice President of Firearms.
The soft recoil is possible through the dwell time in the rifle length system. Adams Arms enhanced this by using a low mass carrier that allows for a smaller gas port. This results in less material being used and less energy needed to cycle a round which creates a softer recoil. Watch this video to see the recoil during a 3 gun match
Adams Arms is a company committed to providing cutting edge technology to meet the needs of the modern day shooter. Their dedication to developing products, such as the Adams Arms piston driven system, that will improve performance and minimize maintenance costs is unparalleled by anyone else in the industry today. On top of this, their patented retrofit kit for the AR-15 platform saims to save customers thousands of dollars by offering an affordable upgrade option instead of the high cost of replacing weapons and weapons accessories. For more information visit Adams Arms. All Adams Arms products are made in the USA and come with a Life-Time Warranty.