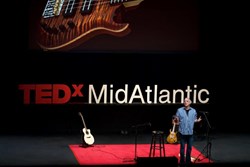 "I'm suggesting that if you put a better bridge on a guitar, it's not that it adds to the sound, it subtracts less," said Smith. "I live in a Newtonian physics world. The goal is an energy of 6 in and 5.9 out. That would be a really great instrument."
Stevensville, MD (PRWEB) November 28, 2013
Paul Reed Smith's TEDxMidAtlantic Talk is now available for public viewing on YouTube. Paul, PRS Guitars working founder and Managing General Partner, presented his TEDx Talk entitled "Changing Your View of Musical Instruments" to a sold out Washington DC crowd on October 25, 2013. TEDx programs are a local extension of the widely popular thought-sharing organization called TED. The sought-after TED and TEDx events feature select speakers whose talks focus on the power of ideas to change attitudes, lives and ultimately, the world. TEDx events have become a social media sensation with views on YouTube now exceeding 78 million. Paul was one of fifty "thought leaders" chosen for this year's TEDxMidAtlantic conference.
In his TEDx Talk, Smith, a guitar-maker and entrepreneur by trade, whose premier guitar manufacturing company produces top quality instruments that are played and collected worldwide, explores musical instrument sound production, his studies of subtractive theory with regards to instruments, particularly stringed instruments and the role of Newtonian physics in making music with instruments. Paul explains that although the fundamentals in producing tone are simple although the secrets to unlocking highly musical sound and the application of those methods can take a lifetime.
Paul's presentation has been added to the TEDx library and is now available on TEDx You Tube channel at https://www.youtube.com/watch?v=sNzJjlV1TOA&list=PLsRNoUx8w3rPM31A6pZV3mRcOuEeZHVIY
You can connect with PRS Guitars at: http://www.prsguitars.com, http://www.facebook.com/prsguitars, and http://www.twitter.com/prsguitars.
###
About Paul Reed Smith:
Paul Reed Smith - musician, songwriter and the Founder and Managing General Partner of Paul Reed Smith Guitars, was born in Bethesda, Maryland. He made his first playable guitar for extra credit at St. Mary's College. In 1985, he turned that positive experience into Paul Reed Smith Guitars. Today the company is the third largest electric guitar manufacturer in America, and their list of artist endorsers reads like a who's-who list of contemporary musicians. Smith holds almost 100 registered and pending trademarks, several copyrights, and nearly two dozen patents.
Paul Reed Smith presides over research and development of new PRS products, serves as a mentor through motivational lectures to Maryland high school students, cherishes his role as husband and parent and is an accomplished guitarist who, despite his very busy schedule, has played with Carlos Santana, Mark Tremonti, Chuck Brown and a host of other notable artists and continues to write, perform and record music with The Paul Reed Smith Band.
About PRS Guitars:
Paul Reed Smith Guitars is a leading manufacturer of high quality instruments in Stevensville, Maryland and has provided some of the world's most renowned musicians with instruments since 1985. The PRS team of highly skilled craftspeople design and build a wide variety of musical instruments and gear for worldwide distribution, including electric, acoustic, and bass guitars as well as boutique-style guitar amplifiers. The PRS SE line of products complements the Maryland-made PRS line by offering highly approachable and more affordable electric and acoustic guitars and guitar amplifiers. Carlos Santana, Neal Schon, John McLaughlin, Linkin Park, Orianthi, Opeth, Zach Myers of Shinedown, Mark Tremonti of Creed and Alter Bridge, Ricky Skaggs, Cody Kilby, Martin Simpson, Tony McManus, Warren Haynes, and Derek Trucks are among the artists currently playing PRS instruments and/or amplifiers.
PRS Guitars Info: http://www.prsguitars.com
About TED and TEDx:
TED is a nonprofit organization devoted to Ideas Worth Spreading. Started as a four-day conference in California 26 years ago, TED has grown to support those world-changing ideas with multiple initiatives. At TED, the world's leading thinkers and doers are asked to give the talk of their lives in 18 minutes. Talks are then made available, free, at TED.com. TED speakers have included Bill Gates, Jane Goodall, Elizabeth Gilbert, Sir Richard Branson, Benoit Mandelbrot, Philippe Starck, Ngozi Okonjo-Iweala, Isabel Allende and former UK Prime Minister Gordon Brown. The TED Conference takes place every spring in Long Beach, California (along with a parallel conference, TEDActive, in Palm Springs), and TEDGlobal is held each summer in Edinburgh, Scotland.
In the spirit of ideas worth spreading, TED has created TEDx, a program of local, self-organized events that bring people together to share a TED-like experience. The TED Conference provides general guidance for the TEDx program, but individual TEDx events are self-organized.
Images are available via the following link: http://prsguitars.com/media/tedx/