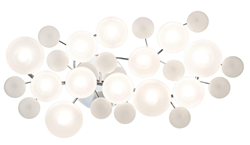 'Cool & modern' and 'warm & inviting' are ideas that can co-exist in holiday decor.
Los Angeles, California (PRWEB) November 30, 2013
Most modern home interiors boast a sleek design style that's often described as "cool" and "detached." Is it possible for such a space to also feel warm and inviting? With the holidays officially here, modern lighting and décor shopping site EuroStyleLighting.com has asked designer bloggers Justina Blakeney, Joanna Hawley and Cori Magee for modern holiday decor tips to help make a contemporary home feel warm and comfortable this season.
Add Color
"You couldn't ask for a more fitting modern palette than the snow whites and sparkling icicles of the holidays," explains Cori Magee, Contributor to the Euro Style Home Blog. "Use these as the starting point for your modern decorating scheme."
Joanna Hawley (Designer/Founder of Jojotastic.com) takes this cool weather concept and warms it up with some bolder additions: "I love combining traditional winter whites with pops of color. My favorite palette right now includes shades of ivory and white, hot pink, hunter green and burgundy."
Justina Blakeney (Designer/Founder of JustinaBlakeney.com and Contributor to the Euro Style Lighting Blog) suggests another common winter palette: "For modern holiday decor, focus on metallics. Modern and festive? Done and done!"
Metallic finishes like brass and chrome have seasonal sparkle, plus modern lighting fixtures with these finishes result in a lasting style that blends with every season.
A Little Décor Goes a Long Way
Blakeney suggests a simple and affordable decorating trick: "Bring fragrant and festive natural elements into the home, from pine to holly." These modern holiday decor elements generally cost less than store-bought accents and add a comforting holiday ambience to the home.
Magee expands on the approach: "Decorate for the season, but design for the whole year. A chic modern crystal ceiling light looks absolutely stunning year round, yet when simply paired with seasonal decor such as candles, garland and other accents, it can embody the holidays whole-heartedly."
Magee also recommends doing something to personalize the home. "Use picture frames to display your children's holiday artwork, or try a fillable table lamp. One of the latest trends in contemporary table lamps, fillable designs are a tidy and attractive way to display seasonal decor. But they could just as easily be used to show-off family heirlooms, vacation memorabilia and more."
Soften It Up
When it's time to create a cozy sense of style and comfort, Blakeney turns to soft textures. "Rugs, and textiles in general, really warm up spaces. If you can walk around barefoot and still be cozy, you can have the most modern of spaces and it will still be warm and inviting." Decorative throw pillows and blankets are a cost effective way to establish a seasonal color palette, and they come in handy for evenings in front of the fire or a movie.
Hawley tends toward naturals and neutrals for her softening elements. "Think shaggy white fur, icy gray sweater knits, even braided rugs," she explains, before turning to a few simple classics for the finishing touch. "As an apartment dweller, I like to decorate my front door to bring some holiday cheer to my neighbors. I always hang a handmade wreath!" For her street-facing apartment, Hawley ensures that the building always puts "its best foot forward by stringing lights in the windows."
With the home decorated, a fire in the hearth and a feast in the oven, there's just one last holiday element that transcends decor. As Blakeney concludes, "It's the people in a home and the love between them that truly make a home warm."
About Euro Style Lighting
Los Angeles based Euro Style Lighting is an online retailer specializing in contemporary lighting fixtures and lamps for the home. The company also offers furniture and home decor, ranging from today's newest designs to ultramodern style. The Euro Style Lighting buying team sources fashion forward designs from across the globe to offer customers a collection of competitively priced products that emphasize aesthetic value, quality and – with a growing selection of LED and fluorescent lights – energy efficiency. Featured designers include Karim Rashid, Holtkoetter, Robert Sonneman, Jonathan Adler and more. More at EuroStyleLighting.com.