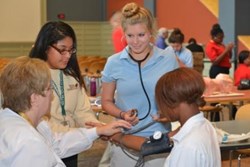 'We are particularly proud of the fact that each graduate will leave MHS with at least one industry- recognized certification,' said Robert Kemmery, MHS director of Career/Technology Education (CTE) and Transition Services.
Hershey, PA (PRWEB) November 27, 2013
Young people in America are bearing the brunt of the slow economic recovery as they continue to experience high levels of unemployment. Many employers cite a skills gap as a major hurdle to hiring qualified workers. A commitment to hands-on experiential learning helps students at Milton Hershey School® (MHS) graduate from high school prepared for the world of work and postsecondary education.
"Part of the vision of Milton Hershey in founding this School was to prepare young people to lead fulfilling and productive lives," said Robert Kemmery, MHS director of Career/Technical Education (CTE) and Transition Services. "That vision is alive today in our CTE programs, which focus on building students' skills to prepare them to go straight into the workforce or a postsecondary education program. We are particularly proud of the fact that each graduate will leave MHS with at least one industry recognized certification."
One area of the CTE program recently was honored with a national award, becoming the first print education program in Pennsylvania to receive this distinction. The Printing Industries of America (PIA) presented the 2013 Frederick D. Kagy Education Award of Excellence to the Graphic Communication Technologies program at Milton Hershey School during the PIA's Nov. 15 Ben Franklin Honor Society Induction and Awards Banquet in Chicago, IL.
"I always wanted to be a photographer, but now I want to be a graphic designer because of the MHS program," said Tatiana Ariola, junior. "I am already going to have three certifications when I go to college and will be more prepared than my peers."
Graphic Communication Technologies is just one of the 11 programs offered at the School. Other career pathways range from Automotive Technology to Health Science. Through the many options offered at the School, students can go straight into a meaningful career or a college or technical program.
The CTE programs aggressively train students in their chosen field of study and partner with local businesses to offer job shadowing, internships, and co-op experiences. Strong affiliations with The Hershey Company, Hershey Entertainment and Resorts Company, and the Penn State Milton S. Hershey Medical Center, give students meaningful experience with major companies and help them to network with real world executives and industry leaders.
"The CTE program gives you a basic understanding of what is expected of you, and you can build on that classroom experience once you go out into the field," said Zackery Wyjadka, a senior who is participating in a culinary co-op at the Hotel Hershey. "My co-op is demanding and fast paced and every day is different."
More information about how MHS prepares students for college and a career is available at http://www.mhskids.org.
# # #
ABOUT MILTON HERSHEY SCHOOL
Milton Hershey School is a cost-free, private, coeducational home and school for children from families of low income. The School is funded by a trust established by Milton S. Hershey and his wife Catherine. Milton Hershey School offers a positive, structured home life year-round and an excellent pre-kindergarten through 12th-grade education. Our vision focuses on building character and providing children with the skills necessary to be successful in all aspects of life. Go to http://www.mhskids.org to learn more.