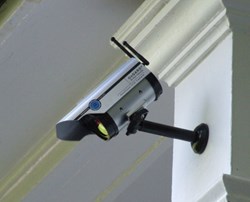 Giving a friend or family member one of our innovative and affordable security products will show them how much you truly care for them and how much you value their safety and well-being.
(PRWEB) November 27, 2013
The holiday season is a time known for giving and celebrating with friends and family; but this time of the year is also a prime target for burglars, who could potentially take all of the joy out of the holidays. This year, give loved-ones the gift of home security and peace of mind with certified security products and home security tips from Global Security Experts.
Burglars and thieves know that homes will be filled with new gifts – flat screen televisions, laptops, tablets, jewelry and other expensive items – during the holiday season. Common criminals also know that many homes will be left vacant at this time, as families travel across the country to spend time with relatives.
Now, more than ever, it is necessary for home owners to put extra security measures into place in order to keep their homes, families and valuables safe. Jordan Frankel, founder of Global Security Experts and world renowned Security Sensei, offers citizens the following holiday home security tips to decrease their likelihood of being selected as a burglar's target during the holidays:
-Homeowners who are travelling during the holidays should make it seem as though their home is occupied; Do this by installing two or three light timers inside the home, and use the timers to activate a radio and lights at random times while gone; Also ask a neighbor to collect the newspaper and any ads left on the driveway, doorstep or front door knob.
-Avoid placing a Christmas tree and/or presents in front of an accessible window; displaying presents in a window practically invites burglars to reach in and grab the gifts.
-If Christmas lights are displayed outside the house, be sure to use an exterior outdoor outlet, or hire a professional to install one. Extension cords running through a window for Christmas lights create a security hazard, allowing burglars to easily open windows and break in to a home.
Home owners can better protect themselves and their homes with the use of several certified security products from Global Security Experts, like the OnGARD Security Door Brace, the SMART Dummy Camera, or a variety of BurglarGARD Film Kits. These products also make great gifts for family and friends. What better gift to give a loved-one than safety and peace of mind?
"Giving a friend or family member one of our innovative and affordable security products will show them how much you truly care for them and how much you value their safety and well-being," said Frankel. "We have a wide variety of products available, with something that nearly every homeowner can use to greatly increase home security."
Frankel is available for media interviews regarding his security training and services, along with Global Security Experts' security products, including OnGARD, BurglarGARD and more.
To learn more about Global Security Experts' products, visit http://www.globalsecurityexperts.com/
For the full list of Holiday Home Security Tips, please visit http://www.globalsecurityexperts.com/home-security/dont-let-a-burglar-ruin-the-holiday-season.html.
About Global Security Experts:
For nearly two decades, Jordan Frankel has led the professionals at Global Security Experts in providing affordable, customized home security solutions for the everyday citizen. Global Security Experts offers the latest state-of-the-art security devices and physical deterrents to home invasion, as well as on-site training to families, businesses and individuals worldwide. Frankel, known as the Security Sensei, is a highly trusted authority in the field of residential security. He has completed home security makeovers and trainings for celebrities, high-profile business executives, and even a former President of the United States. Frankel and his revolutionary security have been featured on several national television shows and in news outlets throughout the country, including The Oprah Show, The Rachael Ray Show, Fox News, The Boston Herald and more. Additionally, Frankel has authored countless articles for a variety of the most respected security publications worldwide. To learn more and to find out what Global Security Experts can do for you, visit http://www.globalsecurityexperts.com.