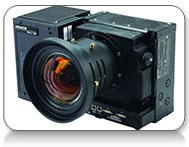 Christie's reputation within the simulation industry gave us confidence that the solution would work.
Cypress, Calif. (PRWEB) December 03, 2013
Christie®, who introduced the world's first DLP® simulation projection system with LED illumination, the Christie Matrix StIM™, today announced that Frasca International, manufacturer of flight training equipment for airlines, flight schools, and military organizations worldwide, has awarded Christie the contract to provide 12 simulation projection systems for the German Federal Police's (BPOL), two new Eurocopter EC155 and AS332, and Helicopter Flight Training Devices (FTDs) at BPOL's new Simulator Centre in Sankt Augustin, Germany, which opened in July 2013.
The award-winning Christie Matrix StIM™ WUXGA 1-chip DLP® solid state, LED-based projectors will power the new FTDs with a field of view of 200 degrees horizontal by 68 degrees vertical for training for both day and night operations in all of Germany, including airports, hospitals, and maritime features, in support of civil SAR and law enforcement mission training.
Frasca's Project Manager, Greg Poe, noted that, "Frasca chose the Christie Matrix StIM projectors because they were the only viable dual normal/IR projection solution on the market, which is a testament to Christie's R&D. The projectors were new so Frasca had a lot of design questions and, as with any complex project, customer support is critical to success. Christie's reputation within the simulation industry gave us confidence that the solution would work. Christie's support staff worked well with Frasca to ensure their solution met Frasca's high quality standards and our customer's needs."
With its unique dual input architecture, the Matrix StIM uses Christie InfraScene™ to provide independent control over both visible light and the infrared spectrum for a more realistic training experience with real night vision goggles (NVGs). "With InfraScene, the Christie Matrix StIM accurately depicts day and night scenes as well as independent, stimulated NVG images delivering realistic training for conditions of limited visibility and night time operations," said Zoran Veselic, vice president, Visual Environments at Christie.
Christie ArrayLOC™, is an innovative technology utilized with the Matrix StIM that automatically adjusts and balances the brightness, color space and black levels of all the projectors in the display in real-time with no additional latency. These integration solutions create an exceptionally stable platform that provides the ultimate in scalability, with the LED light source and solid-state technology delivering more than 50,000 hours mean-time-between-failure (MTBF) for years of continuous, virtually maintenance-free operation.
Christie is at I/ITSEC in Orlando, Florida, December 2-5 to showcase several simulation solutions including the Christie Matrix StIM WQ 120Hz WQXGA integrated scalable-environment projection system, and Christie's 4K 120Hz technology demonstration at booth #2049.
About Frasca International Inc.
Frasca International of Urbana, Ill., has over 50 years of experience manufacturing flight training equipment for airlines, flight schools, universities, and military organizations worldwide. The product range includes Flight Training Devices (FTDs), Synthetic Training Devices (STDs), Cockpit Procedure Trainers (CPTs), Full Flight Simulators (FFSs), and more for all aircraft types, fixed wing and rotary. Over 2,500 Frasca devices have been installed worldwide.
About Christie
Christie Systems USA, Inc. a wholly-owned subsidiary of Ushio Inc., Japan, designs, builds and installs customized projection display solutions. Christie delivers turn-key solutions for sophisticated virtual reality, simulation systems and control room environments including high-resolution power walls, multi-sided immersive environments, curved screen displays, domed simulation and multi-projector arrays. Industries and organizations that rely on Christie range from government agencies to oil and gas, aerospace to entertainment, and manufacturing and design to pharmaceuticals. For more information, visit http://www.christiedigital.com.
-30-
For more information contact:
Carmen Robert (at I/ITSEC)
Christie
519-572-5824
Carmen.Robert(at)christiedigital(dot)com
Mario Almonte
Herman & Almonte Public Relations
212-616-1190, ext. 267
malmonte(at)herman-almontepr(dot)com
Twitter and Facebook
#christiedigital
#iitsec2013
#simulation
http://www.facebook/christiedigital
"Christie®" is a registered trademark of Christie Digital Systems USA, Inc., registered in the United States of America and certain other countries
DLP® is a registered trademark of Texas Instruments.