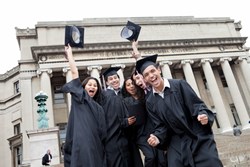 HSF is committed to ensuring that all qualified and deserving Hispanic scholarship applicants receive the support they need to complete a college education.
Los Angeles, CA (PRWEB) November 26, 2013
The Hispanic Scholarship Fund announced today that effective immediately, students with Deferred Action for Childhood Arrivals (DACA) status are eligible to apply for an HSF General Scholarship at http://www.HSF.net. The application deadline is December 15th, 2013.
According to a memorandum prepared by the Mexican American Legal Defense and Education Fund (MALDEF), U.S. Citizenship and Immigration Services (USCIS) has confirmed that a DACA recipient – as is the case for any other deferred action grantee – is "authorized by the United States Department of Homeland Security to be present in the United States, and is therefore considered by DHS to be lawfully present during the period deferred action is in effect."
According to USCIS, the purpose of DACA is to allow youth to come out of the shadows, to alleviate them of the fear of deportation, and to allow them to become open contributors to America's workforce, military, and educational system. It is a national imperative to provide access to higher education for Hispanic students who will comprise 30% of the work force by 2050.
"HSF is committed to ensuring that all qualified and deserving Hispanic scholarship applicants receive the support they need to complete a college education", said Fidel Vargas, President & CEO, Hispanic Scholarship Fund. "By expanding our eligibility criteria to include DACA students, we are broadening the pool of talented students that HSF can support through college who will then go on to contribute to the economic vitality of our great nation."
According to HSF, these students will not only be eligible to apply for scholarships but will also have the opportunity to participate in HSF's mentoring and career services programs if they are awarded a scholarship.
The organization reports that last year it received over 85,000 applications. About 25,000 of these students were qualified to receive scholarships, but there was only sufficient funding to award 5,100. That translates to a $50 million gap that HSF is striving to fill through the donations of both individuals and its corporate partners. HSF recently launched an online individual donor campaign, Donate 833, that encourages individuals `to give as little at $8.33 per month to help fund qualified, deserving college students.
About the Hispanic Scholarship Fund
Founded in 1975, the Hispanic Scholarship Fund provides scholarships to Latino students, as well as related support services. HSF seeks to give students all the tools they need to apply to college, do well in their course work, graduate, enter a profession, excel, help lead our nation going forward, and mentor the generations to come. As the nation's largest not-for-profit organization supporting Hispanic American higher education, HSF has awarded over $400 million in scholarships and provides a range of ancillary programs for students, scholars, and their families. HSF further strives to make college education a top priority for every Latino family across the nation and to mobilize our community to proactively advance that goal – each individual, over a lifetime, in every way he/she can. For more information about the Hispanic Scholarship Fund please visit: http://www.HSF.net.