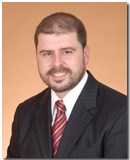 Steve Vickner says, "As COO, I want to continue the pattern of growth and move the service level side of the business from great to excellent. ITelagen customers are the blood line of our business and we want to make sure they understand and feel that."
Jersey City, NJ (PRWEB) November 27, 2013
ITelagen, Inc., a leading, innovative provider of IT support and cloud-based hosting for healthcare, finance and small business, announces the promotion of Steven Vickner to Chief Operating Officer effective November 22, 2013. Vickner is being promoted after serving a year and a half in the role of EVP – Business Development, where he was a primary driver for new business and managed the Professional Services Department.
Before joining ITelagen, Vickner spent over 10 years on the client side of the healthcare IT industry. His professional experience spans front-line technical and leadership positions for Continuum Health Partners (CHP), NYU Langone Medical Center (NYULMC) and Manhattan's Physician Group (MPG), where he served in roles such as Director of Ambulatory EHR and Chief Information Officer. Vickner joined ITelagen in 2012 with the goal of bringing his client knowledge and experience to the on-going success of ITelagen.
In his role as EVP – Business Development, Vickner assembled a Professional Services Department and helped bring in new business from large medical practices such as Asheville Cardiology of Asheville, NC and Heekin Orthopedics of Jacksonville, FL. Vickner has been an integral part in the growth of ITelagen in the past year. As Chief Operating Officer at ITelagen, Vickner will be responsible for Support, Quality Assurance, Professional Services and the Network Operating Center (NOC). He will remain a heavy hand in the business development and sales side of the organization, as well.
"Steve used to be a client of ITelagen's and joined ITelagen because he believes we provide a great service. Promoting him to COO was a strategic move to ensure the continuation of our tremendous growth. He is extremely customer oriented and shares our vision of making service a priority," says John O'Keefe, CEO at ITelagen.
Steve Vickner says, "I joined ITelagen a year and a half ago because I believed in the business model as a client and wanted to see the organization grow and prosper. In the last year, we have done just that. As COO, I want to continue the pattern of growth and move the service level side of the business from great to excellent. ITelagen customers are the blood line of our business and we want make sure they understand and feel that."
About ITelagen:
ITelagen® redefines Healthcare IT for medical practices by providing electronic health records (EHR) as part of an entire back-office solution that includes unlimited onsite & remote technical support for all of your staff and secure hosting of your patient data. We are more than just desktop technicians, but a complete healthcare technology team made up of CIO's, engineers, and healthcare EHR experts. With ITelagen, you can have all the benefits of your very own fully-staffed IT Department, without the expense of an in-house staff. By combining certified EHR experts with IT and hosting, ITelagen becomes the single point of contact and "One-Stop Shop for EHR®" for IT and EHR infrastructure, all for a flat monthly subscription fee. For more information, visit ITelagen on the Web at http://www.itelagen.com. Follow ITelagen on Twitter at https://twitter.com/ITELAGEN, Facebook at http://www.facebook.com/itelagen, or LinkedIn at http://www.linkedin.com/company/itelagen.
Contact:
Emile Ondrus
ITelagen, Inc.
201-239-8405
press(at)itelagen(dot)com