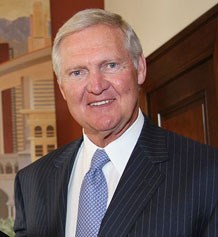 Good communication builds strong relationships and strong relationships build champions for life. That's why it's so important to get your hearing checked. --Jerry West
Syracuse, NY (PRWEB) December 02, 2013
Jerry West, a basketball icon and one of the greatest players of all time, recently became a HearStrong Ambassador on behalf of the HearStrong Foundation.
"HearStrong's mission is so important because it advocates for improved communication," said West. "Good communication builds strong relationships and strong relationships build champions for life. That's why it's so important to get your hearing checked."
A non-profit organization, the HearStrong Foundation works to spread hearing loss awareness by recognizing the accomplishments of those who overcome hearing loss to achieve their goals and inspire others to do the same.
As a HearStrong Ambassador, West will assist the foundation in honoring these individuals and help to further its hearing loss awareness movement.
West joins other notable HearStrong ambassadors, such as A.C. Green, Mike Stratton and Cedric Ceballos.
"We are honored to welcome Jerry as a HearStrong Ambassador," said Ed Keller, founder and president of the HearStrong Foundation. "Our goal is to show people that it isn't the challenges in life that define us, but how we choose to react to them. With Jerry's support, we are closer to reaching that goal."
About HearStrong:
The HearStrong Foundation strives to recognize the accomplishments of those who have overcome hearing loss and live their lives to the fullest. Headquartered in Syracuse, NY, the foundation is a world-wide advocate for hearing loss awareness, education and support. For more information about the foundation, or to nominate a HearStrong Champion, please contact:
info(at)hearstrong(dot)org
Like us on Facebook
Follow us on Twitter