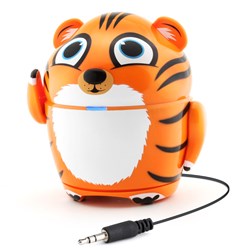 Westlake Village, Calif (PRWEB) November 27, 2013
In a new partnership, Accessory Power is collaborating with Panthera to assist in their mission of conserving the future of the world's largest and most endangered cats, including the wild tiger. During a four-month fundraising campaign that begins Black Friday, Accessory Power will donate a percentage of net profits from the newly-released GOgroove Groove Pal Tiger and Groove Pal Junior Tiger speakers to Panthera's Tigers Forever program.
"Accessory Power is excited to partner with Panthera and raise public awareness about the fragile status of the wild tiger population," said Alex Rocha, Director of Business Development. "We're letting people know how they can lend support for conservation efforts that strive to root out the threats facing these endangered cats. The problem is bigger than any one organization, but together with help from the many current and future Panthera supporters, we're confident that amazing progress can be made."
Fundraising will take place between November 29th and March 31st across all channels where Accessory Power sells the Groove Pal Tiger and Junior Tiger. These small, rechargeable portable speakers come with packaging and pamphlets designed specifically to support Panthera by raising awareness about the state of this endangered species and how to help efforts to conserve the world's largest wild cat. The Groove Pal Tiger features dual stereo drivers and a passive bass subwoofer. This portable speaker connects to audio devices via retractable 3.5mm audio cable, and draws power from a 6-hour lithium rechargeable battery. At half the size of the Groove Pal Tiger, the Groove Pal Junior Tiger also includes a passive subwoofer, 3.5mm audio cable and 40mm driver, while offering dual power options of AAA batteries or direct USB connection. All Groove Pal and Groove Pal Jr. speakers can be linked together via integrated 3.5mm connection port.
Founded in 2006, Panthera is a global non-profit organization whose mission is to ensure the future of wild cats through scientific leadership and global conservation action. Panthera's focus on protecting the world's largest and most endangered wild cats, including tigers, lions, jaguars and snow leopards, is predicated on the role of these apex predators as landscape guardians. The presence of wild cats indicates healthy, functioning ecosystems crucial for the well-being of other wildlife, habitats and people.
Panthera's Vice President, Andrea Heydlauff, explained, "Sadly, fewer than 3,200 tigers remain in Asia and what's even sadder still is how so few people know this. Tigers are being poached across Asia for their skins and body parts for the illegal wildlife market. We're thrilled that Accessory Power is helping raise awareness here in the United States about the state of wild tigers and has chosen Panthera to support our conservation efforts across Asia."
Through this partnership, Accessory Power is helping Panthera in its commitment to protect the largest and most imperiled wild cats. In addition to the Groove Pal Tiger and Junior Tiger, five other animal-based speakers are designed in the image of endangered, threatened, and at-risk species – koala, owl, panda, polar bear, and penguin. Accessory Power will continue to work with a variety of non-profit organizations to bring awareness to these animals.
For more information on Panthera, visit http://www.panthera.org. For more information on Accessory Power, visit http://www.accessorypower.com/.
###
Accessory Power is an American-based manufacturing and distribution company, with offices in USA, Asia and Europe. Since 1980, Accessory Power has been dedicated to manufacturing quality consumer electronic accessories. An important distinction that characterizes this company is an unrelenting commitment to quality in each step of a product's life; every product is backed by an industry-leading three-year warranty. Accessory Power is proud to say that they are, "The Power Behind Your Electronics!"
Launched in 2006 after decades of continuing tiger declines, Panthera's Tigers Forever program is changing the face of tiger conservation. Tigers Forever makes a unique commitment to increase tiger numbers at key sites by at least 50% over a 10-year period by relentlessly attacking the most critical threats to tigers – poaching of tigers and their prey. Utilizing rigorous science to maintain constant vigilance on conservation efforts and on the tiger itself, this transformative program is the only one of its kind to guarantee success – the recovery of the wild tiger. Visit Tigers Forever.