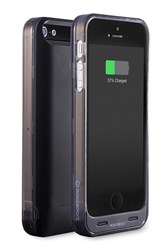 Rokit Boost releases the Excess 2400 Battery Case for iPhone 5/5S
New York, NY (PRWEB) November 26, 2013
Rokit Boost, a pioneer in the creation of leading-edge consumer electronic accessories, today announced the launch of the Excess 2400 iPhone© 5/5S Battery Case for the iPhone 5 and 5S. The Excess 2400 is an iPhone© 5- and iPhone© 5S-compatible battery case, and has been designed for effortless operation with iOS 6 and 7 as well.
It is a follow-up to the previous battery case created by Rokit Boost, the Excess 2000. Sporting 4 vibrant, eye-catching changeable bumpers and 360° of total, reliable protection, the Excess 2400 also allows for up to 120% more phone battery life. Notably, its battery capacity is one of the biggest offered by any iPhone battery case on the market. The battery case is available for purchase worldwide.
"The Excess 2400 represents the next generation of cutting-edge, consumer needs-focused battery case technology. We're pleased to note that it's been certified for the iPhone© by Apple© and as one of the few battery cases with hardware that's completely compatible with the iPhone 5S and iOS 7," said the product manager at Rokit Boost. "The Excess 2400 is the latest expression of our complete commitment to creating first-rate consumer electronic accessories with our customers' needs and budgetary concerns in mind."
Features of the Excess 2400

2400 mAh battery capacity (8.88 Wh) — With this iPhone© charging case's supreme battery capacity, one's phone will never run out of juice when it is least needed ever again. This adds up to 120% extra battery to the iPhone 5/5S. In a word, that is an additional 255 hours of standby time, 8 hours of talking time, 40 hours of audio time, 8 hours of 3G surfing time, or 10 hours of video viewing time.
Ultra portable, protective, and lightweight—The Excess 2400 weighs less than 3 ounces and features ultra-thin protective armor for the iPhone© 5 series so that the battery inside is hardly noticeable. No bulkiness here; just a slim, easily storable iPhone battery case with 360° of complete, standard, and reliable iPhone protection.
4 Customizable, colorful looks for the Excess 2400's sleek design with 4 free, easily changeable battery case bumpers.
Multiple features for enhanced user experience—Among its many features, the charging case's forward-ported acoustics redirect clear audio to the user, and the case also features an LED power indicator and flash-friendly features for easy iPhone© 5S camera operation.
1-year limited warranty for defects in material or functionality
The Excess 2400's design is patent-pending. The battery case is available at an MSRP of $99.00.
For a limited time, Rokit Boost is giving away free samples of its new iPhone© 5/5S battery case to guest bloggers. All qualified guest bloggers are invited to visit http://www.rokitboost.com/ and request a free sample for review. After reviewing the Excess 2400, guest bloggers may keep the battery case as a complimentary gift.
About Rokit Boost
Rokit Boost is a tech company, focusing on improving electronic devices. Whether it is an iPhone© charger case, Bluetooth headphones, or a wireless Bluetooth speaker/microphone, our products focus on improving existing technologies. We believe in great customer service, great prices, and above all else - great quality products.